February 25, 2019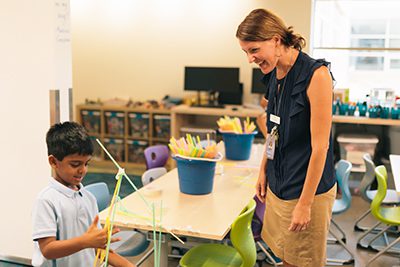 First grade teacher
How many years have you been at MPA?
My first, first grade class is currently in ninth grade … making my career at MPA nine years!
What do you love about MPA?
I love that MPA reaches every aspect of the whole child and that they respect every child as an individual.
How does MPA nurture students who forever dream big and do right?
MPA nurtures students who forever dream big and do right by inviting students from a very young age to express their dreams, teach them that no dream is too big, and help them on a path to discover how to reach those dreams while being respectful citizens.
If you have worked at another school, how has your experience at MPA been different?
MPA has an amazing understanding of students at each educational level (Lower School, Middle School, and Upper School) and how each relates to one another. Having the span of pre-kindergarten to graduation from high school under one roof is a unique quality in a school.
What would you tell a parent considering MPA?
You will never want to leave!
In what ways are you preparing students for life in the 21st century?
In addition to laying a foundation of strong academic skills, my students are expert role models of joyful learning. They are learning to be problem solvers and critical thinkers. They are involved in community service through experiences such as the Blood Drive and Birthday Boxes.
What do you hope for MPA students in 20 years?
To see that our students are successful in following their dreams.
Is there anything else you'd like to share about your MPA experience?
Coming to work at MPA fills my bucket every day!
Mounds Park Academy, a PreK-12 private school in Saint Paul, is currently accepting applications for the 2018-19 school year. For more information about admission and to schedule your tour, visit moundsparkacademy.org/admission. We look forward to getting to know your family!