March 13, 2019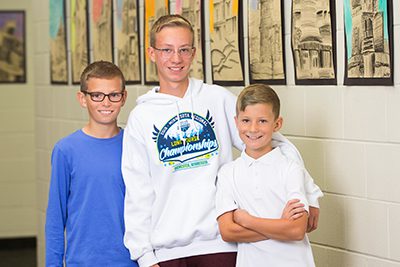 A Message From MPA's Board Of Trustees 
by Matthew Larson, MPA Parent, Board Treasurer, Board Chair-Elect
MPA's faculty and staff are creating and nurturing our children's dreams and providing the skills and mindsets it will take to fulfill them every day. Our school's mission is held in deep regard and is sincerely felt throughout its classrooms and hallways. The future spaces and opportunities that Together, We Dream will create will be game changing for our students, faculty, staff, and entire MPA community. If I may speak on behalf of the MPA Board of Trustees, we believe Abraham Lincoln said it well: "The best way to predict your future is to create it."
This community-wide effort to proactively create MPA's successful future is inspiring to me and our family. We have learned through the years that these efforts are all about participation and that everyone's generosity is pooled together to make dramatic positive impacts across our community. While the transformational changes will have immediate and positive impact upon our children today, they will also help build MPA's successful future.
Together, We Dream is an effort to continuously elevate MPA's campus environment while also developing an even stronger financial foundation for the school's future. The MPA endowment is an important priority of the campaign. Funding the MPA endowment provides assets now that will fund MPA's mission forever, across generations.
As Warren Buffet says in his famous paraphrase of an ancient Chinese saying, "Someone's sitting in the shade today because someone planted a tree a long time ago." This campaign is an opportunity for all of us to come together to uphold and preserve the MPA experience for both current students and generations of Panthers to come. A healthy endowment provides opportunities for MPA to even more vigorously deliver upon its mission in the future and a state-of-the-art facility enables innovative, collaborative learning for the next century. Every dollar of every gift allows the MPA community to dream big and do right today and forever. One-hundred percent of the members of the Board of Trustees have made a gift—thank you for joining us and thank you for your support.