March 5, 2019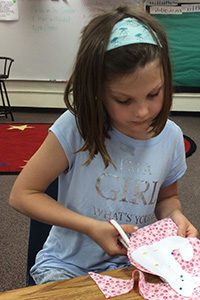 Calling all American Girl fans, as well as dragon, fairy and unicorn lovers! Join Lower School and Middle School Drama Teacher and Director Ms. Mastel for three summer enrichment classes during the week of June 17-21!
In the American Girl Club, students will use the American Girl stories as inspiration for this interactive class. Join us as we play games, do crafts, and create treats from various time periods in history. "What I love about this class," shares Ms. Mastel, "is that it teaches students about history and friendship through arts and crafts, games, and even cooking." It is for students in Grades 2-4, and will be from 10:40 AM-12:10 PM.
Imagination Station is for students in Grades 2-4, and will be held from 12:50 PM-2:20 PM. Dragons, fairies, unicorns, and other creatures from our imagination are the foundation for this fun and exciting class. From building fairy houses and writing unicorn poems, to acting out Chinese fairy tales with dragons, the sky is the limit if you use your imagination. When asked what her inspiration was behind the class, Ms. Mastel replied, "When my daughter was in kindergarten, some of her friends started a 'fairy club,' which I thought sounded like a lot of fun! I asked her what they did in their club and began brainstorming my own ideas and then extended it out to other magical creatures when planning this summer class."
Last, but certainly not least, are you ready for a fun-filled week of summertime fun? Join Ms. Mastel for a water day with a slip-and-slide and sprinklers, pitching a tent and roasting marshmallows, creating a lemonade stand, and playing numerous outdoor games. If this sounds up your alley, sign up for Classic Summer Fun for Grades K-4, from 2:30-4 PM!
We're so excited to celebrate summer in Minnesota with you. For more information and to register, visit moundsparkacademy.org/summer!