April 25, 2019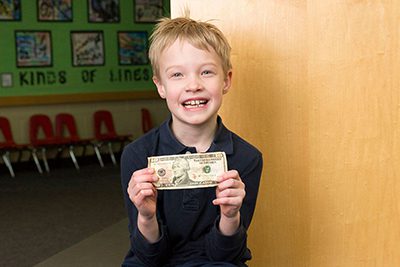 by Dr. Bill Hudson, Head of School 
One of my favorite childhood stories was "The Little Engine That Could." I remember my father reading the book to me when I was a child, telling me that no matter the obstacles that I face in life, if I work hard and believe in myself, I can do anything. His words have inspired and comforted me throughout my childhood and adult life. Whether it was earning a canoeing merit badge on a windy day as a teen, surviving finals week in college, or writing my doctoral dissertation, I have found the reserve to know that I will be able to persevere and ultimately succeed. It wouldn't have been unusual, even up to his death, for my dad to send me a note with no words but instead a simple drawing of a train making its way uphill.
I have the same confidence today that together we will meet our goal of $4 million by the very important deadline of May 1 so that we can continue with Together, We Dream: The Campaign for MPA projects. While we have met our goal to fully fund the new cafeteria and kitchen, we are just shy of the amount needed to build the new library. If we do not reach $4 million by May 1—if we do not act now—the library construction phase of the campaign will not be able to start this summer, and costs will increase. From the beginning, our intent was to fully fund these two important projects without risking our short-term and long-term financial sustainability and reaching this milestone will help ensure that.
Together, We Dream has truly been a labor of love for all involved. Over and over, I have been inspired and humbled by the depth of feeling, commitment, and dedication members of this amazing community have for the school. This campaign has brought us together, given a name to our hopes and dreams, and galvanized our school. Your support by May 1 will result in a reimagined library that combines the resources of a high-tech collaborative learning space with the warmth and comfort of a reading library.
MPA is unique in many ways, not least of all the breadth of giving by so many: parents, students, alumni, parents of alumni, grandparents, and friends. Gifts have ranged from $2 to six figures and all amounts in between. A common characteristic of many of the gifts families have made is that they were willing to stretch beyond what they might otherwise be able to give because they believe in this project. They believe in this school.
There are times that I wish we had a number of donors who are able to give $1 million or more in one gift; and then I remember that the broad range of gifts from people across the community signifies, to me, the strength and vitality of our community. Participation has always been the key to our fundraising success.
Please know that if you decide to join us on this journey toward renovated spaces and growth for the school, a gift of any size and toward any of the projects will be gratefully received. And if you have already joined in these exciting projects, please know how very thankful I am for your support. As I often tell community members who are determining what gift is right for them, every dollar gets us one step closer to these incredible improvements.
There is no doubt that I feel the pressure to reach $4 million by next Wednesday. It's definitely crunch time for the campaign as we make our way toward $5 million. But I am confident that with your help, together we will succeed. Although my dad has been gone for five years, I can still see his hand-drawn depiction of the little engine and hear his voice clearly: I think I can, I think I can, I think I can, I know we can, I know we can …
Learn more and make your gift by May 1 at moundsparkacademy.org/together. Thank you!