May 16, 2019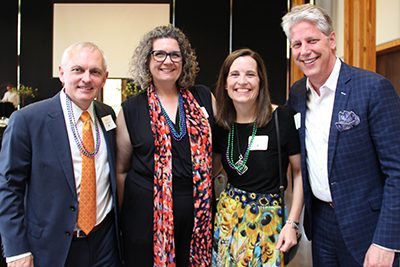 Thank you to our entire community for helping to make the 2019 Spring Auction – Once Upon a Time a big success. Together, current parents, alumni families, grandparents, faculty and staff, and friends raised a grand total of $200,584!
Our community also ensured that this year's Fund A Need project, Together We Dream of High Tech Spaces, was fully funded. By raising their paddles and generously supporting the Fund A Need, MPA will be able to provide the best technology and tools in our newly renovated commons and library next year. Thank you to everyone who donated to this very special project.
The Spring Auction represents so much of what is great about MPA: supporting our students and teachers to have the best resources available, and continuing to build an inclusive and welcoming community. Thank you to our co-chairs of this year's auction, Scott and Jennifer Holloway and the rest of our Spring Auction and decorations committee members: Billi Jo Aamodt, Jennifer Boyle, Trish Hanson, Jennifer MacDonald, Reese Manger, Sally Richie, Renee Roach, Lisa Vale, and Christi Zweig. This event wouldn't be possible without our incredible volunteers!
We also still have spots available for some of our fabulous Great Gathering parties! Check out these sign ups and reserve your spot before it's too late!
Movie in the Orchard
Spanish Paella Party
Maryland Crab Cake Dinner
A Night in La Dolce Vita
An Evening in the Makerspace
LaChapelle Princess Party
Cooking Class in the New MPA Teaching Kitchen
Take a look at all of the photos from the wonderful evening here!