May 16, 2019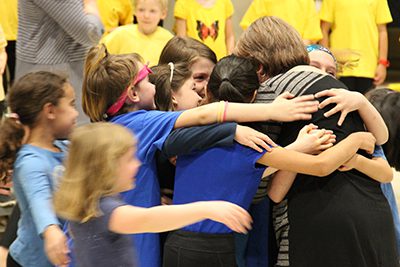 by Dr. Bill Hudson, Head of School
It is hard to put into words how I feel about coming to school each day. I am incredibly fortunate to work with amazing people who inspire me by their professionalism and by their character. They are kind and caring people who love their area of expertise, their craft, and most certainly, the children they teach. MPA English teachers indeed love literature, but they also love engaging students in the exploration of the most fundamental questions about humanity and meaning. Our math teachers undoubtedly enjoy the intricacies of the relationships of numbers, but they also love awakening the curiosity and problem-solving abilities of their students. The very best teachers do not teach math, or science, or art. They teach students.
Whether by retirement or life changes, we will say goodbye to several of these remarkable MPA educators in a few short weeks. Most of us have left jobs behind because we were dissatisfied with working conditions, or because we were bored or underappreciated. Rather than leave MPA behind, these educators move toward new chapters in their lives. While it is difficult to bid farewell to them, I do so with gratitude for the mark they have had on this community and with joy for what lies ahead of them.
When a colleague of mine began a new job, replacing someone who was long-serving and larger than life, a parent told her that she had big shoes to fill. She politely replied, "That's all right. I brought my own." While we can never truly replace our departing teachers, members of the Academic Administrative Team have been working with teams of teachers and the input from students to hire the very best teachers to carry on the MPA tradition of excellence. Without exaggeration, more than 100 candidates from across the state, nation, and world have submitted materials for our consideration. In an era of teacher shortages, we are privileged to choose from among the very best and having great success. I look forward to sharing a very exciting hiring update soon.
In many schools, the executive assistant to the head of school is an office manager and administrative aide. However, Laurie Foss, in the words of a past chair of the MPA Board of Trustees, has been "the rock, glue, girders, and substrata holding the forward momentum of school progress together." For the past 29 years, Laurie has supported the leadership of all four heads of school and the governance of numerous iterations of the Board. By doing so with kindness, compassion, and joy, she has touched the lives of thousands of students. Laurie has mixed emotions about retiring, but looks forward to spending more time with her grandchildren.
Dave McGaha has been the bedrock of our physical education department since he arrived at MPA 36 years ago. Together with his colleagues, Dave helped create a distinctive and outstanding physical education philosophy and pedagogy that sparks joyfulness but also fosters important life-long skills such as health, wellness, and collegiality. His younger students often refer to him as a "second grandpa." Older students appreciate his kindness, sense of humor, and cheerfulness.
After 41 years teaching, 37 of those at MPA, Karen Rossbach has been at the forefront of building robust and substantive fine arts and visual art departments. She came to MPA with a handful of risk-taking educators, in a borrowed building with hand-me-down furniture, and played a vital role in helping MPA mature into one of the top private schools in the Twin Cities.  As a parent, I am grateful that my daughter Ari has been inspired by the artistic passion of Ms. Rossbach. Ari recently said, "Her adventurous spirit brightens my day. She has taught me to love and be as passionate about my work as she is!"
Poet Maya Angelou once said, "People will forget what you said, people will forget what you did, but people will never forget how you made them feel." Our retiring and departing teachers and staff certainly leave a legacy and I know I am better for having the opportunity to know and work with them. In announcing her retirement, Ms. Rossbach borrows a quote from A.A. Milne's Winnie the Pooh to express her sentiments, "How lucky I am to have something that makes saying goodbye so hard." I'm sure that we all agree that the feeling is mutual. Please make time to join me Thursday, May 30 between 4 PM and 7 PM at Keller Golf Course to celebrate Laurie, Dave, and Karen.