May 9, 2019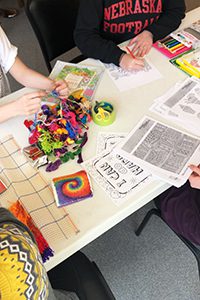 May is Mental Health Awareness Month, and in honor of the national initiative, each weekday throughout the month at MPA there are activities, discussions, and presentations surrounding the topic of mental health. The month's awareness events are focused on Upper School students, and are spearheaded by Ashley Cooper, Middle and Upper School counselor. While Ms. Cooper created the calendar of daily events, she shared that a lot of what she planned were direct requests from students.
Ms. Cooper emphasizes the importance of using the right terms when talking about mental health. "We all have mental health and mental wellness," she says. She adds that some goals for the month are to bring awareness to mental health, help students reflect on the state of their own mental well-being, and to share resources on what to do if students think they need to talk to a professional about potential mental illnesses.
The month's daily calendar has a loose structure; every week there is Meditation Monday, an activity, a Lunch Talk, a presentation, and an exercise for students to complete on their own. The first Lunch Talk of the month surrounded the topic of stigma, and any stigma that the students thought was associated with mental health. Upcoming Lunch Talks will cover the topics of supportive language, how to help a friend who is struggling with mental health, and a discussion on how to talk about your struggles. The month will conclude with a discussion on positive self-talk. These discussions are all led by Ms. Cooper, but are driven by the students who attend. Meditation Monday reoccurs every Monday throughout the entire school year, and the idea was brought to Ms. Cooper by Upper School students, who wanted moments of relaxation and stillness throughout their busy days.
From the success of Meditation Monday throughout the school year evolved the idea for Tech-Free recess, which is an opportunity for students to step away from technology and do activities with their hands and imagination. Tech-Free recess occurs each week throughout the month, and its activities include coloring, making friendship bracelets, playing board games, cards, and a yoga class. Throughout the final week of the month there will be activities and discussions that focus on taking this mental health awareness into the students' every day lives, even after Mental Health Awareness Month is over.
"I was very excited when Ms. Cooper said that May was Mental Health Awareness Month," says sophomore Annie Kramer. "I always look forward to whatever is planned for that day, whether it's a presentation or just a worksheet to fill out. I think having activities focused on mental health is crucial to making yourself and others feel good. It's fun to see so many different people show up. Being able to raise awareness about mental health in my own high school is so important and cool."
Ms. Cooper adds that it's equally important for parents to know how to talk to their children about mental health. Click here for a resource on how to do so.
Attending to the social, emotional, and mental health of MPA's students does not mean that we take away time and emphasis from math, English, or science. It means that we understand that students cannot succeed academically if their energy and focus is directed at managing anxiety, living with depression, or distracted by social problems. Over the last several years, we have increased our programs, services, and staffing to enhance our ability to support the well-being of students and the enthusiasm surrounding Mental Health Awareness Month is an excellent example of how our students are benefiting.
For more information on Mental Health Awareness Month, contact Ms. Cooper at acooper@moundsparkacademy.org.