July 11, 2019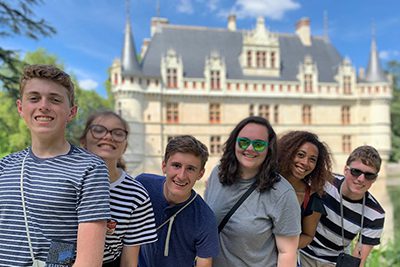 On June 16, 16 MPA students, parents, and faculty headed to London for the first leg of a two-week journey that would take them from London to Paris via Normandy, Brittany, and the Loire Valley.
The trip began focused on British history with an emphasis on World War II. After a visit to the Churchill War Rooms in London, students boarded a boat and crossed the English Channel to Normandy, where they spent the next few days exploring and learning more details of the D-Day invasion. Since it was the 75th anniversary, this visit was even more poignant in the villages and historic sites of Cherbourg, Caen, Arromanches, St. Mère Eglise, the American Cemetery, Omaha Beach, and Point du Hoc. Students were assigned a person involved during the D-Day invasion and had several days to prepare a presentation about them, which was shared with the group at Point du Hoc. MPA Senior Charlie Galicich also shared with the group the story of Class of 2018 alumna Katie Jacob's grandmother, following her experiences as a nurse days after the initial invasion.
After Normandy, the trip shifted back in time as students had the opportunity to further explore history, culture, and language while visiting sites like Mont St. Michel in Normandy, the chateaux of the Loire, and, of course Paris! Not only did students visit these places, but they also learned about architecture, prepared a traditional French meal at a local restaurant, participated in a Medieval dance class, and learned painting techniques from a professional painter in an artist's studio in the heart of Montmartre.
On any given evening around the dinner table, students would engage in French lessons, discuss in detail the prominent events of the day, or enlighten the group with interesting facts they knew beforehand. The tour leader remarked time and time again how impressed she was by how well-versed the students already were in French history, culture and language. We are very proud of our global travelers!