July 11, 2019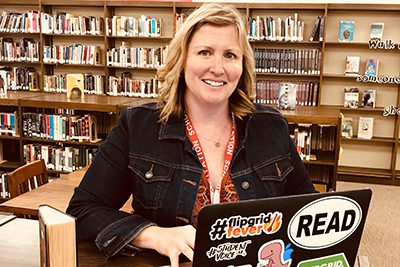 Meet Tracey Joyce, who will be our new PreK-12 academic technology integrationist. Tracey comes to us from Visitation School where she has worked in the area of technology for 12 years. Prior to that, she was a classroom teacher for eight years. Ms. Joyce has extensive experience developing curriculum and promoting the intentional use of technology to support student achievement in the PreK-12 classroom. She is an exceptional parent educator and advocate of digital citizenship and security who deeply cherishes whole child education and loves to celebrate the joy of learning!
What did you love about MPA right away?
My favorite part of the interview process was meeting the students. The students I interacted with from all three divisions were helpful, kind, articulate, and charming. It is evident that the entire community supports a "students first" mentality and I absolutely cannot wait to join that effort. And, in full disclosure, I should also mention how much I enjoyed the "spa water" at lunch, too!
What's your big dream?
My big dream is to make all kinds of wellness, but especially digital wellness, a priority in the lives of as many people as I can. Talking about and sharing resources on how we can mindfully and intentionally use technology as teachers, parents, students—human beings, is something I'm really passionate about.
What are you (and your family, if you so choose) passionate about?
Our family is passionate about wellness and taking care of ourselves and others. We love being outdoors and spending time on our boat with our two dogs, Hrbek and Rainy.
What's your secret talent?
I was told my "not-so-hidden-talents" are: "off-the-charts" slideshow skills and empathy.
We can't wait for our entire community to meet you, Ms. Joyce! Stay tuned for more extended Q&A profiles of the amazing faculty and staff joining our community in the 2019-20 school year!