September 18, 2019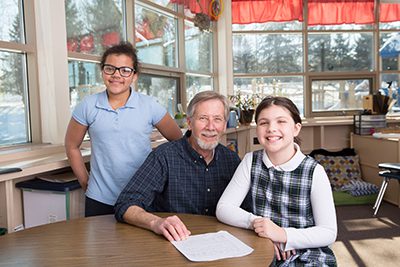 Together, We Dream: The Campaign for MPA is helping our school accomplish a number of key priorities. We've already witnessed the impact of our community's generosity in our beautiful new Family Commons, and we will soon in our new library.
An additional key priority for the school is securing our future through a strong endowment. A strong endowment ensures our programs continue to be of the highest quality. It allows us to make an MPA education more accessible to more families. Your gift in support of our school's endowment will leave a lasting impact in the following ways:
greater access to an MPA education through financial assistance;
enhanced classroom experiences for students through professional development opportunities for our faculty and staff; and
supported learning beyond the classroom through experiential education, travel, and enhanced curricular opportunities.
Past generous supporters saw the future potential and impact of MPA and its mission. Now you can help lay the foundation for students today and tomorrow by making a financial commitment toward MPA's endowment. We're more than halfway toward this priority's goal of $500,000. Please help us reach this goal by October 1.
"Having the opportunity to be a part of the MPA community is a dream come true for both my son and me. The community here at MPA is loving, inviting, and inclusive. It aligns with our core values as a family and individually as a person," says Mary Claire Wenti, MPA parent. "Through the last six years, my son has grown socially and educationally. He is pushed to think critically and use his imagination in ways I never thought were possible."
Planned Gifts Today Are A Promise For a Bright Future
MPA's Legacy Society is made up of a group of special supporters who have chosen to make a planned gift to the school. There are many ways to support the Together, We Dream endowment priority via a planned giving vehicle.
Many MPA alumni, parents, and parents of alumni make a gift through their wills or estate plans. Did you know you can name MPA as a beneficiary of your retirement account, life insurance, or overall estate? For many, this designation can have a dual benefit of supporting the school you love while also decreasing an estate tax burden and not impacting your present income stream. Often, families have opted in to supporting MPA in this way; simply let us know that you've made this designation.
There are many additional ways to join the MPA Legacy Society and secure our future through a planned gift. Contact Jennifer Rogers, director of development and community engagement, at jrogers@moundsparkacademy.org or 651-748-5532 to learn more and discuss your options.