September 5, 2019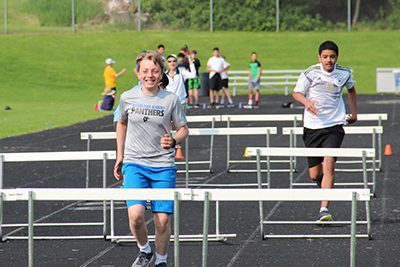 by Dr. Bill Hudson, Head of School
Throughout middle and upper school, I was usually the tallest kid in the room. However, my coordination never seemed to be in sync with my height. Nevertheless, I was encouraged to play the center position on the basketball team and defensive end on the football team. There were many times I was discouraged, but I learned to push myself. In my junior and senior years, I saw very little playing time in basketball, but earned my place on the team in practices by playing center in scrimmages, going up against Pete. I was 6'3" and 160 pounds. Pete was 6'5'' and 230 pounds. Over the course of two years, I sustained a broken leg, several sprained ankles, black eyes, bruised ribs, and other injuries … all thanks to my friend, Pete.
A great deal of the success I've had to date can be credited to lessons I learned from those experiences. For example, whether it was pushing myself to finish my doctorate, dealing with difficult problems at work, overcoming personal challenges, or running a 10K, I am stronger because of the endurance I have learned. While some may define endurance as suffering, I view it in a positive light—an indication of growth and accomplishment.
As we enjoy the new commons and kitchen and anticipate the completion of the new library, I wish to remind us all that our Together, We Dream campaign for the future of MPA is not over. Our goal is to raise in excess of $5 million to build our school's endowment and to rebuild the track in our outdoor stadium. While Together, We Dream has already had tremendous success and support from the community, we haven't yet reached the finish line.
A healthy and permanent endowment is crucial to the long-term sustainability and vitality of our school. With a robust endowment, MPA can weather any challenge for today's and tomorrow's students. At present, our endowment stands at $5.6 million dollars and provides approximately $500,000 annually to support professional development for our faculty and staff, classroom resources, and financial assistance for deserving students. Ideally, for the age and size of our school, we would have an endowment of $15 million. In time, I am confident we will get there, but we will need your support and endurance to reach our campaign goal.
One might more easily connect endurance with the need for a competition-grade outdoor track. Our entire community benefits from the track, whether it be through physical education classes, athletics, or community events such as the Track & Field Days at the end of the year. However, due to the age and condition of the existing track, we haven't had one worthy of our students' achievements, capable of hosting competitions, and one that is fully ADA accessible. When completed, our new facility will ensure that students can practice on the newest surface technology and compete alongside other schools.
Many of you have already generously given to Together, We Dream. Thank you. I'd like to encourage you to dig a little bit deeper to help us to finish strong to complete these two priorities. Or, please help us spread the word to make sure we can reach our goal. Every gift of every size helps us take one step closer to achieving these final two priorities in support of our students, faculty and staff, and community members.
In academics and athletics, MPA fosters and celebrates endurance as a critical attribute for growth. Successful completion of Together, We Dream will be a true test of endurance for us, but I have confidence in our community. Together, all of us, will need to go the extra mile to raise the remaining amount by October 1. Together, we need to push the limits of our capacity for endurance, kindness, and philanthropy. Together, we can build upon our recent success and grow the MPA of our children's dreams.
Learn more and make a gift at moundsparkacademy.org/together.