January 8, 2020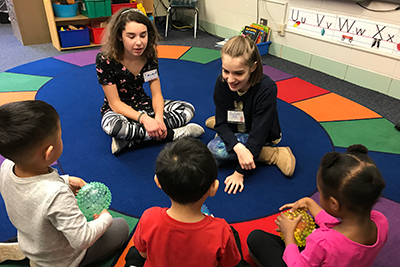 "Design For Change" is more than a phrase that our students and faculty have become very familiar with this school year. It is an organization that functions on global and national levels, working with students and educators to "turn empathy into action." More than one million students are involved in Design For Change and are positively impacting their communities worldwide. This movement has made its way into the minds and hands of MPA students through Ms. Koen, Makerspace coordinator, and Ms. Joyce, technology integrationist, as they work with seventh graders on MPA's very own Design For Change global challenge.
In November, Ms. Joyce attended the I Can Children's Global Summit in Rome, which featured students from over 40 countries and their Design For Change initiatives. Their solutions covered global issues including violence, gentrification, medicine, environmental issues, and teens and mental health. After an incredibly powerful experience, Ms. Joyce is helping the MPA seventh graders get their projects ready to submit to the 2020 I Can Global Summit.
"Attending the Summit was definitely a life-changing experience for me," said Ms. Joyce. "Besides the individual impact of each of the students' participation in their Design For Change solution, the group impact made possible by the global conference will resonate beyond anything we can imagine."
The idea behind Design For Change is that there is no single one-and-done solution. The purpose is to spark curiosity, relationships, partnerships, and ongoing work that ripples into the community, and eventually, the world. The MPA students involved are currently focusing their efforts on the United Nations sustainable development global goal of reduced inequalities–specifically, quality education and school funding disparities.
In the first stages of their project, MPA alum Hena Vadher '13 visited the seventh grade group to talk more about the achievement and opportunity gaps. "The achievement and opportunity gaps are two ways in which education inequity has been documented," she explained. Hena worked closely on equity-based education issues, including the opportunity and achievement gaps, as a program manager at Breakthrough Twin Cities. She equipped the seventh graders with more language to understand what's happening in education so they could articulate and brainstorm their project together as a team.
After Hena's visit, the group began to solidify how they would make an impact in educational equity. "We discovered that a lot of times, the achievement and opportunity gaps start in preschool, so we then looked up preschools close by and got in contact," said seventh grader Annika B. Annika, along with Rowan M., Lucia B., Zoya N., Annika D, Navreen B., Sylvie M., Lucy S., Julia H., and Camdyn M., determined that they could offer unique experiences to other students who aren't usually getting them. They started by visiting a nearby preschool and doing creative, engaging, and fun activities with the students there. Over the course of the school year, their interactive visits became a regular occurrence.
Choosing a nearby school was important to the group because they wanted to be able to visit the school several times throughout the year. While crossing the street from MPA to the neighboring school, many of the students reflected on how symbolic and important it was to "get outside MPA and start to do right." "There are lots of things we can improve in our area," noted Navreen. "But it doesn't have to be a big idea. It can be small, too."
Indeed, the group learned to celebrate the big things, embrace small things, and find growth within the process. They just learned that another preschool in the area heard about the work they are doing and scheduled a field trip to MPA. The group is also in the development stages of an app that will make their activities and curriculum available for teachers and classrooms beyond MPA's neighborhood.
"What's been so rewarding is seeing the students truly embrace the problem and make our community a better place," said Ms. Koen. "When you listen to students and support their intrinsic motivations, they feel valued and become change agents in our world. And when you give students the responsibility to solve a problem, they rise to the occasion. I am excited to see the path these young leaders take in the future."