January 15, 2020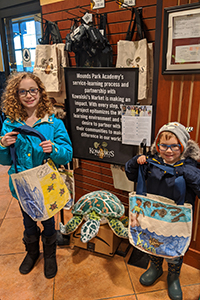 Mounds Park Academy's service-learning process and partnership with Kowalski's Market is making an impact! It all began when MPA kindergartners learned the letter "T" for "turtles." They discovered that sea turtles are dying by mistaking plastic bags in their ocean habitat for food. Then, they learned the word "activist" for the letter "A." Through responsibility, courage, and inclusiveness, they joined the Upper School students at a weekly morning meeting to message ways to save sea turtles. The kindergartners also composed a letter to Kris Kowalski, owner of Kowalski's Market, expressing their concern around plastic bags.
In their letter, the kindergartners acknowledged positive things Kowalski's Market is already doing to make a difference in the community. Kowalski's displays signage in their parking lots reminding customers to bring their reusable bags from the car, and they give five cents back to the customer for each reusable bag. Kris responded to the students' letters, sharing more helpful information about their cause. The students learned more about consumer choices and individual responsibility for taking care of our environment. She included the Kowalski's "Breakdown of the Bags" to help them be informed consumers.
MPA students develop academic, social, and life skills through the design thinking process. Therefore, the kindergarten class decided to make their reusable grocery bags in the Makerspace to be sold Kowalski's Market. As the first step, kindergartners saw several prototype canvas bags and shared observations about the value in each bag. They carefully looked at the designs and sizes to determine which would be best for the consumer. After being donated canvas fabric and materials, they were ready to begin making their bags!
MPA fifth graders helped out their younger peers by sewing each canvas bag in the Makerspace. This activity was connected to their Middle School service as well. Through friendship and cooperation, kindergarten and fifth grade buddies hand-illustrated the "Save the Turtles" message on each bag.
The reusable bag sales have been going remarkably well, as many Kowalski's customers either pick up a bag of their own or make a donation to the cause. "I met some wonderful people while I stood by the cash registers holding a big stuffed turtle and several bags," said kindergarten teacher Kristine Petersen. "It was fun watching them select which bag to purchase. In fact, one customer couldn't decide between two bags, so she bought them both! So much joy!"
Last year, the MPA Upper School science department visited Costa Rica and discovered a sea turtle refuge. The money collected from the bag sales at Kowalski's will be donated to the "See Turtles" organization to help save sea turtles and improve ocean life. With every step, this project epitomizes the MPA learning environment and their desire to partner with their communities to make a difference in our world.