January 27, 2020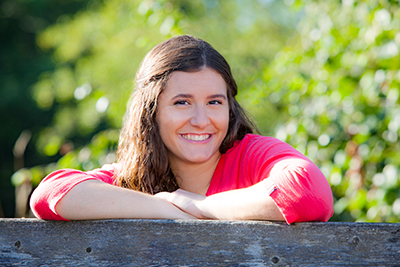 The following essay is adapted from MPA Class of 2020 member Ceci Driano's Senior Speech.
I have always been a planner. The color-coded schedules and to-do lists kind of planner. Yet somehow my life has not gone according to plan. Eighteen years in the making, I now understand that change is constant and life is not always fair, but through it all, the most important thing is how I view change when my best laid plans go awry.
I went to elementary school in rural Minnesota and loved the small-town life. I was able to walk to school and recognize a familiar face everywhere I went. I have many fond memories partaking in events that would only happen in a small town. One of my favorites was walking in the Homecoming and Glows Parades, where the high schoolers were able to ride floats for their sports team and then run back to the beginning of the parade and do it all over again with another extracurricular. Whether it was running my make-believe Screwball Café where I took real money for fake food, or playing chip-it-over the river, where I just kicked a soccer ball over the wheelbarrow in my backyard–I found a way to have fun. My imagination seemed to run wild, and as my dad liked to say, I was basically a free-range chicken. I thought I had my whole life planned out: I would graduate, go to the college down the street so I could live at home with my parents, and then I would become President. What could go wrong?
That is why I was devastated when I learned my family was moving to the Twin Cities. How was I supposed to leave everything that seemed familiar, not to mention, leave in two weeks? This was the first major roadblock in my life plan. Moving from a county where there are more pigs than people, to the Twin Cities with its rush hour. The fact that I would have to commute by car, and not on foot seemed pretty daunting too.
Yet, out of necessity, I learned to be adaptable. While unsure of the whole situation, I learned quickly and I obviously had a lot to learn. Little sixth-grade Ceci had no idea the journey she was about to embark on. Our move to the Twin Cities was the first major change I ever experienced, but more changes came in quick succession, including a transition from a rural public school to a private Catholic school.
Middle school was great, I made new friends, did well academically, and was playing soccer year-round. But, this all came to a screeching stop when I was hit on the side of the face with a soccer ball four days before the start of freshman year. My whole life was flipped upside down in a matter of a seconds; again, this was not in the plan. With a severe concussion, I only attended two full days of school freshman year. I had easily been earning straight A's my entire academic career, and now I couldn't even remember what day it was, not to mention walk in a straight line, have the lights on in our house, or read. My days filled with speech therapy, physical therapy, pool therapy, and occupational therapy, seemed endless.
While all of my concussion symptoms were detrimental to my health, I have to say that memory loss felt the most isolating and frustrating. I soon grew afraid to talk to my friends and teachers as I couldn't remember if we'd had the same conversation a few minutes earlier. Even in the same conversation, I would completely forget what the person asked me as soon as it was time for me to respond, and worst of all, with memory loss I lost a substantial amount of my vocabulary such that I had difficulty stringing together a sentence that even made sense.
Aspects of my life I had always taken for granted such as being able to walk correctly or attend school were suddenly stripped away from me. I was frustrated by these unwanted changes and wished I could just ignore them. I kept picturing my life in eighth grade and felt as if I was working to get that life back. Little did I know I would not return "back" to that life but build a new one. My life kept evolving and it felt as if it was unravelling out of control. Hearing "recovery will just take time" from my doctors enraged me. More than anything, I wanted my life to return to normal, but nobody could certainly tell me if it was ever going to return to so-called "normal." I worked harder just to pass freshman year than I had ever worked to earn an A.
But, after a few years and hundreds of hours of therapy later during my junior year, I was in school full time and able to play tennis. But, again, I encountered a roadblock in my plan toward recovery: I collapsed at school on Halloween in 2017 while taking a test. After months of testing, I learned I needed neurosurgery. While undoubtably anxious, I came to a point of such desperation that I was excited for surgery as it would hopefully provide the magical relief I had been dreaming of for three years. Unlike any of my previous experiences, I was now excited about this change and the chance to build a new path. That chance to build a new path led me to Mounds Park Academy.
Now, if you got to reinvent yourself with new hobbies in a brand-new place, what would you do? This is a question I've had to answer. Since I left my old school, my friends, and the contact sports I had been playing since preschool, I have had the opportunity to reshape my entire life.
This time I was thankful for change as it brought forth new opportunities I never could have imagined. Change finally seemed redeeming, not confining. While it is easy to view many of the changes I have endured as hardships, because none of them were easy to overcome, it has been more beneficial for me to view them as experiences to take with me, and points from which to grow. Although I thought my plan to become a president from rural Minnesota was all I needed in life, I am extremely grateful for the changes that have diverted me from the plan and brought me to where and who I am today. Transferring to MPA and repeating junior year offered me a fresh start. After the longest three years of my life, I wanted to be done with high school, but within my first week at MPA, I learned I had not even experienced high school at all while suffering from my concussion. Here, I have had the ability to choose which path to follow: which clubs to be in, what sports to participate in, and which classes to take. If you told me two years ago while I was struggling with memory loss that I would be on the speech team today, I would have laughed.
Understanding that change is constant has transformed my outlook on life. There are two ways to approach change, to deny it, or learn to embrace it. By learning to embrace it no matter how frustrating or frankly inconvenient it may seem, I have been able to meet exciting people and explore new places. While at times I thought it was the end of the world, I now know that in the context of my entire life, moving to new city, a new school, or even repeating one year of high school will not hold me back. Most importantly, while I have learned a lot about myself, I have not changed who I am, but have grown to embrace the community and circumstances which surround me.
For creating a place that has allowed me to start over, I would like to thank the MPA community. Thank you for building a place that values the whole person and allowing me to channel my time and creativity into many facets. Thank you especially to the Class of 2020 for welcoming me with open arms. I will miss all of you next year.