January 29, 2020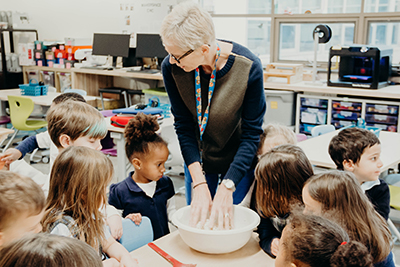 We're interviewing the Makers you'll meet at at Maker Fest 2020 on Saturday, February 22 so you can get to know them ahead of time! Debbie LaChapelle is MPA's PreK teacher who loves to use the Makerspace to channel her students' and her own creativity.
What (or who) inspires you to make?
I like to learn new things and have wanted to be crafty. I sewed in junior high and my mom made most of my clothes and draperies–I guess my mom inspires me.
What do you enjoy making?
Infinity scarves, oven mitts, tissue holders, bags, baby blankets, cord keepers, placemats, and coasters.
What are the most rewarding challenges?
Doing something over and over again, not giving up, and finally getting it right. Not being afraid to make mistakes. Not being afraid to use your seam-ripper; it is your friend.
If you could make anything imaginable with no restrictions, what would you make?
I'd redo my bathroom.
What music do you like to listen to while you work?
I listen to football and Monk.
How has the MPA Makerspace enhanced your Maker abilities?
I have become more confident and willing to try new things.
If reading about Maker Fest has inspired you to share your own passion, sign up here to be a Maker yourself!