January 29, 2020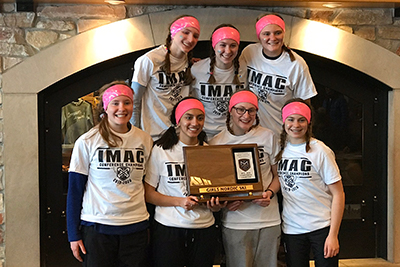 Congratulations to the 2019-2020 Girls IMAC Nordic Champions, the MPA Panthers! The MPA Girls Nordic Ski team of seniors Mari Bohacek and Izzy George, juniors Katie Dahiya, Izzy Quam, Eva Benson, and Emma Cohen, freshmen Eleanore Haas, Sophia Spisak, and Margo Nightingale, eighth grader Abby B., and North Heights seventh grader Sienna S. finished first at the Conference Championship Race with a final score of 550.
The Boys Team of senior Henry Snider, juniors Ian Snider, Collin Steinberger, and Peter Manolis, sophomores Isak Nightingale and Grant Steinberger, eighth graders
David S., Eilam D., and Logan M., and seventh graders Eddie S. And Joe W. also put in great effort and finished second behind Minnehaha Academy with a score of 552.
The MPA Nordic Ski program provides students with the opportunity to learn skills necessary to compete successfully. Skiers are encouraged to achieve their maximum potential in practice and in competition–students work hard, have positive attitudes, and are the best teammates they can be. Great job to all of you, Panthers!