January 30, 2020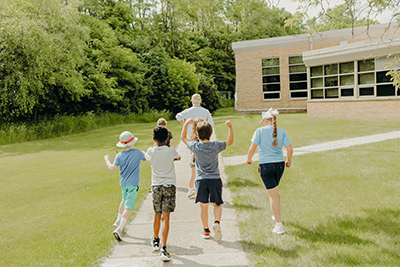 Summer is fast approaching, and we are excited to announce our 2020 Enrichment Classes, Panther Camps, and additional summer program offerings! You will find a variety of opportunities to help motivate and nurture your child's curiosity and learning, while having lots of fun in the process. Register today at moundsparkacademy.org/summer!
What is summer without our Panther Camp weeks? These programs offer weekly activity themes that allow students to explore nature, science, sports, arts, and so much more. Our Panther Camp program is available June 15-26 and July 13-August 21. You can register for daily, half-day, and weekly Panther Camp options. Panther Camp is available 7 AM–6 PM.
Summer Enrichment Class Week runs June 18-12 and offers a wide variety of engaging class topics such as: chess, art, science, academic, and sports. Enrichment classes run 9 AM–4 PM, and during this week, free Panther Care is available from 7–9 AM and 4–6 PM.
During the week of July 6-10, we are offering the national award-winning STEM program, Camp Invention. This week-long camp consists of exciting, hands-on, inquiry-based activities that allow students to explore, create, and innovate. Camp Invention runs 9 AM–3:30 PM, with free Panther Care available 7–9 AM and 3:30–6 PM.
Back by popular demand, MPA is running a week long Summer Musical Theatre Camp and Show Choir Camp directed by a local Twin Cities musical theatre director! Whether you have experience on stage or not, here is your chance to "SHINE." Musical Theatre Camp runs August 3-7 from 8:30 AM-
12 PM and Show Choir Camp runs August 10-14 from 8:30 AM-12 PM, with performances scheduled at end.
We look forward to a fun and productive summer, and hope you consider joining us! Please contact Russ Purdy, Summer Program Director, at rpurdy@moundsparkacademy.org or 651-748-5571 if you have any questions.