February 3, 2020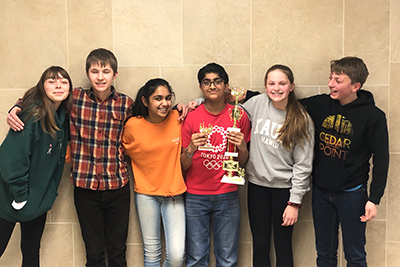 The MPA Middle School Quiz Bowl team had a great day at the GEMSTONE Middle School Quiz Bowl Tournament at Burnsville High School on February 1. MPA had 26 players competing on five teams that achieved outstanding results!
The MPA A Team of Maya A.,  Akshay S., Ben M., Molly V., Somya R., and Ian F. finished second out of 44 teams. This finish qualifies them for the MSNCT National Tournament in Chicago in May!
The MPA B team of Trevor L., Zain A., Zoya N., Annika B., and Navreen B. finished ninth out of 44 teams.
Individually, out of 203 players, Akshay S. finished fifth, Zain A. ninth, Trevor L. 25th, Ben M. 34th, Ethan M. 36th, and Zaq B. 37th.
Ethan M. won the award for Top 6th Grade Player and Zaq B. had a great finish in his first tournament ever!
Congratulations to all of our Middle School Quiz Bowl players, and go Panthers!