February 6, 2020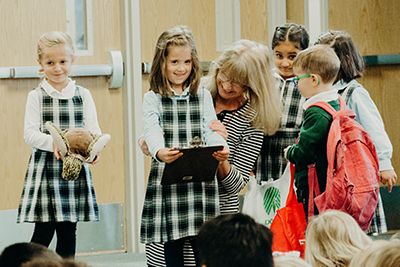 As part of Design For Change's Earth Day Network Plastic Pollution Design Sprint, two MPA Kindergarten students and Ms. Koen were featured in a blog post and on one of their podcast episodes! The Kindergarten students' recent project selling reusable canvas grocery bags at Kowalski's Market gave them the knowledge and confidence to take what they  learned about preserving the environment, eliminating plastic use, and global citizenship on air. Take a listen to what they have to say here!
While you listen, take a look at the Design For Change blog post, "A Look Behind the Scenes: Collaborating with Earth Day Network," to see photos of the MPA Kindergarteners putting their passion to work. The blog expresses the importance of youth involvement, stating that "the biggest leaders in this fight are young people." Right below that powerful statement is an image of MPA Kindergarteners marching into the Upper School commons to talk about why their efforts to save sea turtles and ocean life is so important. Further down in the story is another photo of MPA fifth grader Brooklynn J. beaming with her Kindergarten buddy while holding up the canvas bag they made in the Makerspace.
Way to go to all of the students and faculty involved! You are an inspiration to our entire community.