February 12, 2020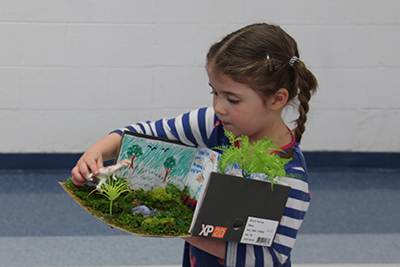 We're interviewing the Makers you'll meet at at Maker Fest 2020 on Saturday, February 22! Eloise is a Lower School student who spends her time building, making, drawing, and experimenting with all kinds of materials. She is also passionate about animals and the environment.
What (or who) inspires you to make?
I like making things out of different materials. I also like to make things to be kind to others. My dad and mom and sister help me sometimes. My dad helps me use the scroll saw. My sister lets me paint with her and my mom helps with projects.
What do you enjoy making?
I like to draw jellyfish and sea turtles. I also like to make things out of paper, cardboard, tape, ribbon, and wood. I like to make jewelry out of paper and mobiles out of wood, paper, tape, and ribbon.
What are the most rewarding challenges?
Getting the project done is fun. I like to look at my projects and sometimes I like to share my projects. I like it when other people like what I make.
If you could make anything imaginable with no restrictions, what would you make?
I want to build a tiny house in my backyard that has a skyway that crosses to my house.
What music do you like to listen to while you work?
Trampled by Turtles
How has the MPA Makerspace enhanced your Maker abilities?
The Makerspace has lots of things to build with. The Makerspace has paper, cardboard, wood, plastic, fabric, and tools.
If reading about Maker Fest has inspired you to share your own passion, sign up here to be a Maker yourself!