February 27, 2020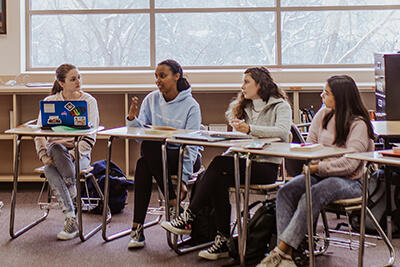 by Tiffany Scott Knox, MPA Board of Trustees Member
Architect. Physician. Entertainer. Professional athlete. Astrophysicist. President of the United States. Children have big plans for what they want to do when they are adults. As parents, we've been given the tremendous responsibility of raising the next generation of leaders—our job is to encourage, guide, and nurture their dreams. I remember the late great Whitney Houston, bellowed, "I believe the children are our future, teach them well and let them lead the way, show them all the beauty they possess inside, give them a sense of pride to make it easier…" I now realize that is more than 'just' a song. An important piece of the puzzle is selecting an educational journey that is conducive for cultivating conscious leaders while preparing and equipping students for the future.
My husband, Clarence and I, are fortunate to be ambassadors of MPA which provides us the opportunity to share through our role as proud parents and members of this great community. We selected MPA because of that sense of community, belonging, and values that are omnipresent. For us, it is imperative that my child is seen, valued, and heard—and in a safe learning environment.
MPA is committed to equity and inclusion by continually striving to become a culturally competent community. By creating this community, a diverse culture is one that thrives off of differences because they bring something magnificent to the societal table. We all don't think the same, we don't strategize the same, and we don't create the same—that is what makes diversity an integral fabric of our community. MPA has illustrated they are invested in cultivating future leaders but also investing in themselves through professional development.
For instance, each employee is required to participate in a one-year program called SEED, Seeking Education Equity and Diversity. SEED is a peer-led professional development program that promotes change through self-reflection and interpersonal dialogue and builds capacity for more equitable curriculum, campuses, and communities. In cohorts of 8-10, employees form conversational communities that drive personal, organizational, and social change toward greater equity and diversity.
In addition, approximately twenty hours of professional development time over each of the last three years has been dedicated to deepening our knowledge of issues of diversity, equity, and inclusion and providing concrete tools and strategies for staff and teachers to use in the classroom, integrate into the curriculum, and strengthen our community.
When I think about great leaders they are also visionary. They see things in a way that others haven't considered—which makes them truly innovative and take the steps needed to make those visions become a reality. At MPA, we are so fortunate children have the opportunity to be freethinkers, dreamers and doers. My child is able to articulate and dream about his future career of a professional athlete and in the off-season explore a career in chemical science. At home we often share this quote from Harriet Tubman with our children; "Every great dream begins with a dreamer. Always remember, you have within you the strength, the patience, and the passion to reach for the stars to change the world."
Over the last four years, in partnership with MPA, our children are learning life skills that have the propensity to propel their academic and professional careers. It is with immense gratitude that our children are embraced, encouraged, and equipped for the future.