February 28, 2020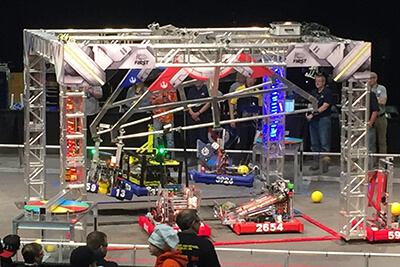 While the MPArors robotics team knew their robot was a work in progress when they headed north, the challenges multiplied in four practice matches. The bumpers had to be redone, which usually takes weeks. The shooter didn't shoot in one match. The buttons on the controller didn't respond in one match. The robot didn't drive straight in one match. A collision shattered the acrylic "indexer," which moves the fuel cells (squishy balls) into the shooter. Some motors ran in different directions in different matches.
But in every tricky situation, the students in the pit crew–with the invaluable help of mentors and coaches–got to work without complaint and dealt with the hardware and software problems one by one. After the scheduled practice matches, the team was able to participate in one more. It was the last unscheduled match of the day, before the field was closed. The MPArors were able to be part of a triple climb at the end of this match, which may have been the only time it happened today! In the photo above, you can see all three blue robots hanging (MPA is team 3926). The team kept working the problems after that match, and by the time we left the pit area around 8 PM, all the causes of the above problems had been addressed.
With just a few practice matches, everyone had a job or took one on. Friday will be busier, more intense, more competitive, more exciting, and louder, building up to Saturday! Opening Ceremonies begin Friday, followed by the Qualification Matches. A full match schedule and viewing instructions are below. Go MPArors!
Friday, 28 February
Qualification Match 4, 9:27 AM, Blue Alliance Team 3
Qualification Match 19, 11:34 AM, Blue 1
Qualification Match 29, 1:42 PM, Red 3
Qualification Match 35, 2:24 PM, Red 2
Qualification Match 45, 3:34 PM, Red 1
Qualification Match 52, 4:23 PM, Blue 1
Saturday, 29 Feb
Qualification Match 65, 9:14 AM, Blue 2
Qualification Match 72, 10:30 AM, Red 2
Qualification Match 84, 11:27 AM, Red 3
Saturday afternoon
Elimination Matches (playoffs). After the "Alliance Selection Process" around noon on Saturday, the team will know if they will be participating in the playoffs.
Viewing Instructions
Go to https://www.thebluealliance.com and select Week 1, Great Northern Regional, and use the green "Watch Now" button OR go to https://www.twitch.tv/firstinspires7.