April 1, 2020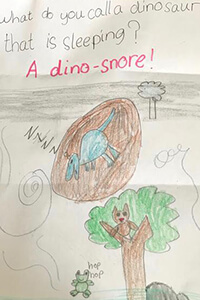 The MPA kindergarten class kicked off virtual learning with a community-centered homework assignment! Kindergarten teacher Ms. Petersen contacted two local senior living facilities and asked if the students could partner with them in order to foster relationships while social distancing and help the kindergarten students continue their CHAMP journey away from campus.
To go along with their letter "J" activity, each student wrote and illustrated a joke for the senior living residents. The assignment also encouraged them to practice spelling and creative details in their drawings. The students then mailed their jokes to Ms. P, and also used this opportunity to explore their own address, discuss how mail is processed and delivered, and learn more about the history of stamps and stamp collecting.
Ms. P is delivering the jokes to the senior living facilities, and even has permission to hang them on the windows outside! The students are ecstatic to be providing joy throughout the community during this time, executing their CHAMP behavior by communicating with an isolated population. Have a good laugh and see all of their jokes here!