April 2, 2020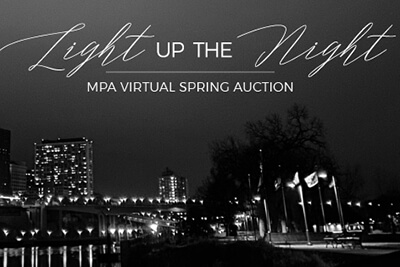 Save the date for MPA's first ever virtual Spring Auction! Since the onslaught of the Covid-19 pandemic and MPA's shift to virtual learning, so much of our world has changed! One thing that has remained the same throughout all of this is the importance of our connection to one another, especially as we work together to overcome whatever challenges or obstacles may be in our way.
In this spirit, our volunteer Spring Auction committee is pleased to announce that this year's 2020 MPA Spring Auction: Light Up the Night is going virtual! Join us on Friday, April 17 for a fun evening filled with inspirational stories, fun auction items to bid and win, and the most important element that makes MPA so special: community.
We need you now more than ever to ensure every student, family, and staff member has what they need to dream big, do right, and light up the world. Learn more about the event, including answers to some frequently asked questions and the changes to expect this year. Check your email inbox this weekend with more details and ways you and your entire family can get involved! Questions? Contact Jennifer Rogers at 308-765-0524 or via email at jrogers@moundsparkacademy.org.