April 9, 2020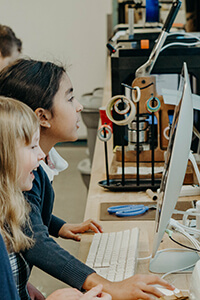 Since we transitioned to virtual learning, parents and guardians are no longer able to connect with one another on campus, at events, or at activities. We know that your relationships are just as important to our school community as your children's relationships, so we have created a virtual way for you to continue fostering them.
We recognize that some grade levels have private Facebook groups and those are wonderful—as a school community, however, we know that not every family is on Facebook. We do know that every family is on Schoology, so we've decided to use that as a tool to further facilitate grade-level parent and guardian communication and collaboration. These groups will be for you and by you; they will not be used for the school to communicate information. We will continue to use Panther Post, institutional emails and division emails to fulfill that need.
These groups are an opportunity for you to share resources, ask questions, post events or photos, and to support one another as MPA parents. Students are not a part of these groups. Your Parent's Association grade representative(s) can provide additional guidance and ideas on ways to utilize these groups for additional parental support and connections.
As a parent you have been automatically added to your group in Schoology. Please login to your Schoology account, navigate to your parent view, click on groups at the top, and see your grade-level group (PARENTS ASSOCIATION GROUP (Class of 20XX). Once you are in your group, you are able to post and comment freely.
Please note: Your notifications may be easily adjusted by clicking on your name in the upper right-hand corner > settings > notifications. If you have any issues, please email Jenn Milam, Middle School director at jmilam@moundsparkacademy.org. Email notifications have been turned off for these groups and you can easily turn these back on if you wish through the notifications button.
We hope that these groups will help you continue to build relationships at your grade level and help facilitate the important communication that happens specific to your grade.
If you have any additional questions, please contact Jennifer Rogers director of development and community engagement at jrogers@moundsparkacademy.org.