April 16, 2020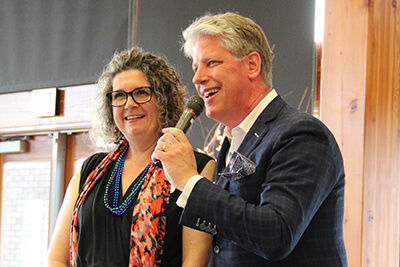 by MPA Spring Auction co-chairs Jennifer and Scott Holloway
When we began this school year with our daughter Grace embarking on her senior year at MPA, we could have never imagined how different school and life would be just a few short months later. We've been a part of many milestones at MPA, both as a family, and in the history of the school. One of the great joys we've had as parents and volunteers at MPA has been to serve as co-chairs of the Spring Auction for the past four years. Despite this history, this year has shaped up to feel like the first time all over again now that we're offering our first ever virtual spring auction as a response to the COVID-19 pandemic.
We can't overstate the importance of our sense of community and commitment to MPA as it has given so much to our daughter and our family. We've often been asked why we continue to volunteer and urge others to do the same for the school we love. For us, it's all about the sense of gratitude and appreciation that you can only understand when you've experienced the MPA way. Each year, we've witnessed the way that truly amazing things can happen when people join together in a common purpose. That might happen in a big banquet hall with fabulous decorations and amazing food, or it could happen on the basketball court, in the classroom, on stage, or now, in a virtual zoom room.
As co-chairs of this year's auction, we urge you to join us for this special night. You can be a part of this event in whatever way is right for you: bid on our more than 130 auction packages, join our live Zoom program on Friday night at 6:30 featuring amazing students and guest speakers, share within your networks of family and friends to invite even more people to join in on this important fundraiser, or give at a level that is right for your family toward this year's Fund-A-Need. Countless people have planned, donated, organized, and contributed in some way to what we're sure is going to be another successful year. Please join us in building community and funding important needs for our students, faculty and staff, and incredible school. We can't do it without you.