April 29, 2020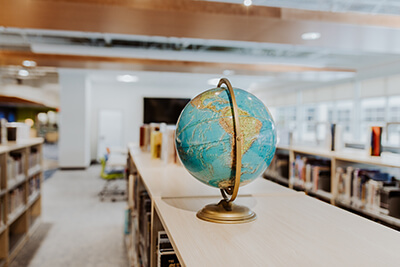 How we work, and therefore, how we prepare students for their future careers, is changing rapidly in the time of COVID-19. A meteoric rise in telecommuting, virtual learning, and video conferencing has reinforced the tremendous speed at which the work world changes in the 21st century. In fact, the nature of jobs themselves are transforming as antiquated job models are being phased out and new approaches are taking center stage. The fundamental change in career paths and professional expectations, brought on by globalism and technology, and accelerated by COVID-19, is shaping and illustrating how progressive independent schools like Mounds Park Academy prepare students for life beyond the four walls of a classroom.
Alison Kay, global accounts committee chair at Ernst and Young, outlines the key skills that will help students prepare for jobs in this new marketplace that does not yet exist:
Embracing risk. Kay encourages parents to "…fight against (children's) fear of failure and embarrassment—and stop ourselves from overprotecting them. It's important for them to ask, 'What's the worst that could happen?', because that process of identifying risks and thinking through consequences will be useful throughout their lives and careers."
Nurturing resilience. "We all make mistakes," says Kay. "We all make bad decisions. But if you have resilience, you don't give up. You learn from your mistakes. And you do it better the next time. Those are the kinds of people that we need in an age of disruption, where established rules are overturned. We need creative thinkers who know how to dig deep and keep trying."
Instilling self-belief. Explains Kay, "Possibly the most fundamental of all is self-belief. I really believe self-belief is one of the most important qualities we need to foster in the next generation. There's something incredibly powerful that happens when the people who you look up to tell you, 'Of course you can do it.'"
MPA is preparing students for the new marketplace by modeling and facilitating innovation, adaptability, and resilience, especially during this complicated era of quarantine and social distancing. It starts with great teachers, says head of School, Dr. Bill Hudson. "Teachers are like conductors of an orchestra. They are attentive to the needs of and draw the best from each individual, but also blend together the various sounds into a magnificent whole."
Innovative educators employ a variety of methods and pedagogical techniques, intermingling different activities to complement the lesson and the situation. Hudson adds, "I've said it many times over the last several weeks that great teachers make great online teachers because the core elements of virtual learning happen all the time in MPA classrooms."
Kindergarten teacher Kristine Peterson saw an opportunity to incorporate a digital component to her lesson on weather. She created an activity in which kindergarteners recorded a clip of themselves doing the weather, just like a like on the local news, and then as a class, they had the opportunity to watch each child's performance.
In Jessica Blue's Upper School French II class, students researched a French song and designed what was going to be an in-class presentation. When Blue's class went online, students used the screen share feature on Zoom to display their projects and even played the music videos for their songs.
Dr. Hudson recognizes that even amid great frustration and genuine crisis, a silver lining is emerging. Despite unprecedented times, he sees an MPA that will emerge resiliently and on the cutting edge of the new marketplace. "We will see ourselves, and one another, in new ways. Disruption and discomfort are the enemies of complacency and can exponentially inspire and spur growth."
Content knowledge has always been important at MPA, but with the world being rapidly reshaped, opportunities to abound integrate even more invaluable lessons on the role of community, civic responsibility, social justice and kindness: the central frameworks of American life that are being so very tested in these trying times.
Dr. Hudson sees this chapter in MPA's history as an opportunity for the school community to dig deep in its pursuit of innovation, to stretch its capacity for resilience, and to be its most adaptable, in order to create both the best distance learning environment possible, and lay the groundwork for students' futures. "We have all come together, as Panthers, and been our best: our most inventive, our most engaging, our most creative, our most kind, and our most hopeful. Together, I have absolutely no doubt that we will emerge from these challenging times stronger than we were before, more connected and less afraid."
While nothing could ever replace the face-to-face experience that MPA typically provides, these messages from MPA families show their gratitude and trust in MPA to prepare children to navigate this challenging time, and an ever changing environment beyond.
"Following their regular academic daily schedules and not missing a beat in terms of rigor and connectedness make me appreciate MPA more than I already did. The transition has been seamless and it has been a joy to watch our son actively engaged in school, just like he would usually be."
"Honestly, I thought that I knew how wonderful all those who work at MPA were—but being beside my son navigating his first day of virtual school, I was blown away with the professionalism, expertise, love and support for the students at MPA. What an amazing team of beautiful, incredibly talented people our children have the awesome opportunity of encountering."
"I was surprised by the number of laughs I'd hear from him as class was happening. Good laughter. The kind that lets you know that JOY is happening in the learning, in the classroom. That's a gift for me, as the parent."
"I heard from a college classmate in another state who's 2nd grader is only doing two hours of school a day because their school (and specifically the lower school faculty) haven't figured out how to teach virtually. We—and specifically I mean the kids—are so fortunate to have such amazing and talented teachers, like you."
"We are so very thankful that Max is at MPA, there are a lot of schools out there that don't have any plans yet for their students and that's sad. MPA has gone above and beyond in what they have done so far. They have made it a priority for the students to keep learning in these tough times. They are also make making an effort to keep in mind the community as well. Tough times like this makes me so very thankful that we have chosen MPA as our school."
So what does the future look like on the other side of COVID-19 and how does an independent school prepare students for that time? Much is unknown, but what's certain is that the minds of the new marketplace will call for innovation, adaptability, and resilience. They will call for an education that awakens the senses, incorporates kindness and respectful discourse, and combines a sense of wonder, a depth of inquiry, and a joy of lifelong learning. In the new chapter of the ever changing, ever more globalized world, learning to celebrate one's own unique differences and insisting that everyone thrives together is the only way forward.