May 6, 2020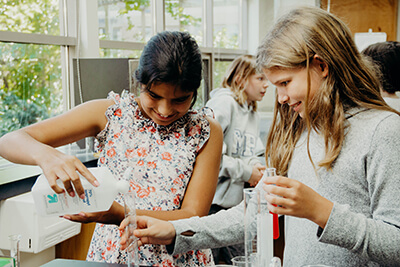 It's a bright September day and students are streaming energetically into Anne Atchison's eighth grade English class. On this day, the class has a guest speaker, Carlos Espinosa, who fled Cuba as a child in the 1960s. Carlos is here as part of the class' discussion on Refugee, a novel recounting children fleeing their homeland in pursuit of a better life. For nearly the entire 75 minute block, Carlos captivates the class with the story of his escape to the United States. There's even time for questions at the end, and the eighth graders ask away.
Students and teachers alike appreciate the 75 minute class periods that make up the Middle School's block schedule. Whether it's welcoming a guest speaker like Carlos to an English class, completing a full Geology lab in a science class, or undertaking a model United Nations conference in social studies, 75 minute blocks allow for the type of hands on, experiential education that makes learning joyful and meaningful.
"Seventy five minute blocks allow for increased levels of engagement in multiple ways that meet the needs of a diverse classroom of learners," says Dr. Jenn Milam, Middle School Director.
The block schedule in the Middle School consists of an "A" and "B" days, and students have three of 75 minute core classes on each day. These classes include math, science, social studies, English, physical education, and French or Spanish. Interspersed amongst these core classes are three 40 minute periods for elective and specialist classes like choir, visual arts, theatre, instrumental music, technology, Makerspace seminar, health or advisory, plus 55 minutes for the lunch and recess period. Over the course of two days, the Middle School block schedule allows students to visit all 12 instructional blocks.
The alternating A and B day schedule means students have a full day between classes to process what they learned, leading to deeper understanding and higher content knowledge. It also means there's a more manageable homework load each day, which helps busy students have family time and free time to pursue other passions without sacrificing academic rigor. Students use their extra day between classes to get their questions on the material answered take advantage of this time to get 1:1 assistance with their homework.
Dr. Milam prefers this type of schedule because of the opportunities it offers as well. "Middle School is the perfect time for students to try everything that MPA offers so that they can make informed choices that align with their passions as they move into Upper School."
Eighth grader Evan W. agrees. "I like it because it means that the more challenging classes are spread out, which also means that the homework is more spread out and I can go to soccer or basketball after school. It's also nice too because you get a larger variety of classes each day."
MPA's Middle School is specifically designed to serve students at an important time in their development. The Middle School's block schedule, completely unique to MPA, does just that, providing an opportunity for students to dive deeply into their core subjects without sacrificing valuable elective and specialist classes. View a sample Middle School schedule here.