May 14, 2020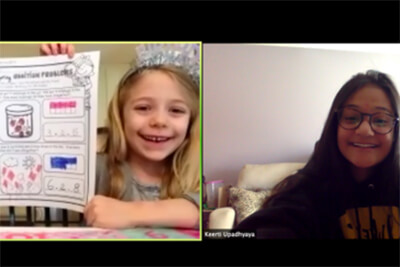 MPA's Virtual Mentoring Program matches Upper School students with students in our Lower School. The Upper School students meet virtually weekly or bi-weekly during the day to help Lower School students in a variety personal and academic situations, including one-on-one academic support, one-on-one enrichment opportunities, story writing, Lower School reading, share and tell, word games, charades, and coloring and painting.
This program not only helps our Upper School students develop leadership skills, but also gives them an opportunity to receive their graduation credit for community service while the world is virtual. It benefits our Lower School students because they recognize that there is another person who cares about them, and assures them that they are not alone in dealing with the day to day challenges of school.
We currently have ten Upper School students who are matched up with Lower School students. more than 40 Zoom meetings have been scheduled for these students, with each meeting lasting 25-45 minutes. We also have a waitlist of available Upper School students who are looking for Lower School students to work with. If you are an Upper School student who would like to be a mentor, please contact Dawn Zimmerman at dzimmerman@moundsparkacademy.org. If you are a Lower School family who would like to get involved with this Mentoring Program, please contact Lower School Director Renee Wright at rwright@moundsparkacademy.org.