May 19, 2020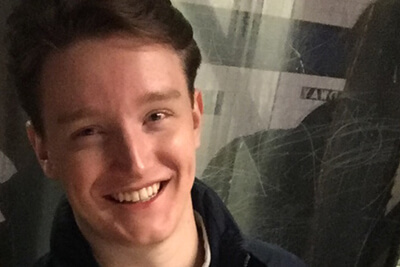 Meet 2019-20 Alumni Association Board member Nicholas Dugas '11!
Nicholas Dugas '11 joined the MPA Alumni Association Board because of the role MPA had in his personal growth and development. "Many of my best traits and skills had their seeds planted while I was a student at MPA, and I look back upon my time there fondly. I joined the Board because I want to give back to a place that gave me a lot, and help guide the school in such a way that the experience I had continues to be available to others," he said.
Nicholas joined the MPA community when he was in fourth grade. His favorite memories stem from being on the speech team–hanging out in Ms. Kunze's room workshopping, rehearsing, and preparing pieces for Saturday tournaments. He notes that one of the highlights was winning State in his respective category one year.
After MPA, his interests continued to grow "as an extension of the MPA mission." "I feel that I embody this mission every day," he said. "In college, for example, I studied chemistry and political philosophy. I then went on to get a Master's in nutrition science and am now trying to go to law school. In some ways, this can look like indecision–but in fact it's a reflection of diverse curiosities and a refusal to let go of that spirit." He goes on to list the ways in which MPA prepared him for the world today:
"I learned how to read and write at high level, which made the transition to college much easier than it was for some of my peers."
"The teachers loved what they taught, which made it easy to love learning."
"Teachers were available for impromptu 'office hours' and conversations outside of normal class times, which is something that I valued. At MPA, I would often stop by and just hang out and talk with some teachers when I had free time, and these unstructured conversations augmented my learning experience. It also made me feel very comfortable approaching professors in college."
Nicholas attended Davidson College for undergrad and then Columbia University for graduate school. He is currently an Overwatch coach for New York University and founded his own coaching business, the Myxotic Institute. He also took the LSAT and is applying to law schools this summer.