May 21, 2020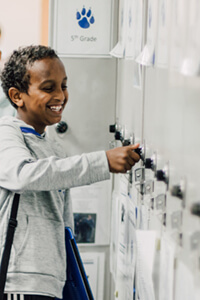 As the school year draws to a close in virtually, it is time to begin thinking about how you will return MPA materials to school for inventory and preparation for next year and how your student will receive any projects, work, or remaining personal items that remain at school from before our launch of Virtual School. Yearbooks will also be distributed at this time for those who ordered them. On Thursday, June 11 and Friday, June 12, we will conduct contactless materials pick-up and return at MPA. See below for your family's pick-up date and time slot.
Last names beginning with A-F: Thursday, June 11, 9 AM-12 PM
Last names beginning with G-N: Thursday, June 11, 1-5 PM
Last names beginning with O-T: Friday, June 12, 9 AM-12 PM
Last names beginning with U-Z: Friday, June 12, 1-5 PM
In preparation and to help families know what needs to be returned, each division is conducting an inventory of materials distributed to students with teachers and staff. This can include, but may not be limited to, textbooks, classroom reading books, library books, winter sports uniforms, and technology equipment (computers, chargers, laptop sleeves, etc.). We ask that you begin, with your student, an inventory of your own at home and begin gathering items that you know will need to be returned to MPA, as well.
Please watch your division communications for more information about the process and details. In the meantime, please save the dates and times above!