June 22, 2020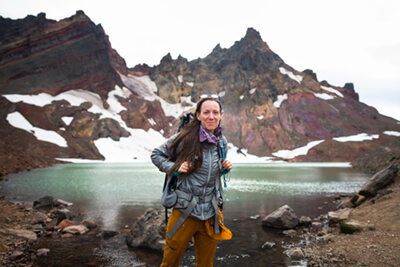 Nate Bander '09 spoke with 2020 Alumni Award winner Heather Rose Otto '97 about her Portland, Oregon-based nonprofit, See You at the Summit.
Tell us more about your role as founder of See You at the Summit. How did that idea come about and what was the journey like to establish your organization?
I was working in the field of wilderness therapy and I actually attended an international conference where I heard a Canadian speaker share more about what they were doing to improve the psychosocial health of teenagers undergoing cancer treatment. I realized that there wasn't anything like this happening in the United States, so over the course of 15 years, I developed and founded See You at the Summit. I went back to school to get my Bachelor of Science in Nursing (BSN) and spent years researching and presenting to the medical community to get their buy in. Now there are 18 hospitals in the Pacific Northwest hoping to get involved in our organization.
See You at the Summit takes eight kids ages 13-18 who are undergoing or have just completed cancer treatment and brings them on a nine day wilderness trip, followed by 21 days of additional programming. So far, we have done backpacking trips but we are adding white water rafting, snow shoeing and dogsledding trips as well. We bring a team of 20 volunteers including physicians, nurses, child psychologists, porters and program facilitators and we're able to provide the trips at no cost to the teenagers and their families.
Going on a See You at the Summit trip helps this underserved group develop self-esteem, make friendships, build resilience, tell their story, and just learn how to be teenager, all skills that are much harder to develop from a hospital room. This is so important because teens with cancer experience depression and anxiety at a 30% higher rate and are four times more likely to attempt suicide. Through our trips and programming, we give them the tools to navigate a very challenging part of their lives.
We are researching the long and short term outcomes of our work as well. We believe that teens who experience a See You at the Summit trip will have better cancer recovery and mental health outcomes. We hope that our research provides the medical professionals who care for teens with better ways to provide social-emotional support as well.
How did your MPA experience prepare you for your life today and your work as the founder of a nonprofit?
I am an MPA lifer and I am so grateful for my time at MPA, it really was a great education. Looking back on it, I especially appreciated the small class sizes because I always felt heard and respected.
In particular, four teachers had a special impact on me. My second grade teacher, Mrs. Thacker was one of them. She actually adopted a puppy from the animal shelter and we cared for it as a class. I also remember my fourth grade teacher Mrs. Zimmerhakl really fondly. She was teaching us about privilege, equity and inclusion in the late 1980s, before most people were incorporating that into the curriculum.
From my Upper School days, Mr. Meacock and Mrs. Conway were of course teachers that made a lifelong impact on me. They stand out because their classes were filled with hands-on experiences. They were teaching about life just as much as the subjects they were responsible for. After MPA, I attended North Park University in Chicago where I studied theology.
What's next?
I am continuing to build this program. As I mentioned, there are 18 hospitals in the Pacific Northwest, and more emerging on the East coast, who want to be involved. I am looking to do even more fundraising so that we can support more kids to go on our trips. For anyone looking to get involved, we are always in need of sponsors for our teens. For more information, visit www.seeyouatthesummit.org.