August 27, 2020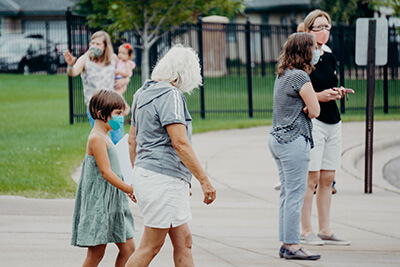 The Parents Association invites parents and guardians to get together Wednesday mornings after drop off. We'll plan something for every Wednesday as long as weather allows and there is interest.
Wednesday, September 2: We will take a 20-30 minute stroll with Michelle Mick, mom to Isaac and Freya (4th grade and kindergarten). We'll meet in the Lower School parking lot and head to the Furness Trail, just south of Larpenteur across from Beebe Road. It will be lovely to meet new faces and exchange information about this first week of school.
Wednesday, September 9: Let's meet at the Farmer's Market at Aldrich Arena at 8:15 AM. Feel free to send your favorite Farmer's Market recipes to Kim Jakway at thejakways@gmail.com beforehand. She'll bring copies for everyone. The market is mostly cash, although some stalls take credit cards.
Remember to bring a mask to all events! Hope to see you there! No RSVP is needed.
If you have any questions, contact Kim Jakway or Barry Madore.