September 15, 2020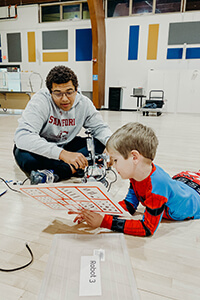 How many years have you been a student at MPA?
I came to MPA in the fall of 2019 as a ninth grader.
What do you love about MPA?
I love the diversity and the classes. The teachers are so kind and supportive and truly want you to grow toward your goals and will help guide you there. I love the community and that as a tenth grader, I have the chance to be with Lower School kids or work with Middle Schoolers as they make their way toward the Upper School.
How are you encouraged to dream big and do right at MPA?
My math teachers encouraged me to pursue my goal of jumping ahead into accelerated math. And this past summer, I finally achieved that. What started as a big dream developed into a possible goal that is now a reality. This would not have been possible if it weren't for the support of the teachers at MPA who encouraged me to reach this goal. Not only do I now feel more confident to reach my own goals, but I am encouraged to do right by helping others reach their goals as well.
Why do you believe your teachers teach the way they do?
The teachers at Mounds Park Academy teach in a way that challenges you to stop and think. They make connections so that you can make progress on difficult questions and continue your academic growth.
If you have attended another school, how has your experience here been different?
I have attended two different school previous to MPA, and one of the main things that I have realized is different between MPA and those schools is an increase in diversity at MPA, both in the student body and in the types of classes available. MPA provides you a stage to exercise your passions and encourages you to go above and beyond.
What would you tell another student your age considering MPA?
If you are passionate about applying yourself and reaching your goals, and you enjoy a diverse community with a vast range of backgrounds, then Mounds Park Academy is where you'll find your home.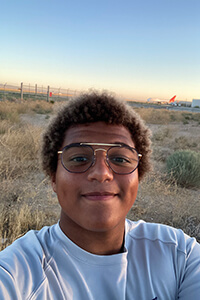 In what ways has MPA prepared you for life beyond school?
We learn to communicate with others. It's not just communicating with those in our grade or even among other MPA students, but also among those outside of the MPA community. They really encourage us to connect with our community. MPA has also opened my eyes to new ideas and expanded my field of view on many occasions.
What's your big dream?
I'm very passionate about human rights, space exploration, and aviation, so my big dream would be to combine those interests in some way.
Is there anything else you'd like to share about your MPA experience?
Mounds Park Academy has done so much for me. As a relatively new student, Mounds Park Academy has helped me integrate into a new school community very well. I have gotten to meet many people, some who have been at MPA for a while and some who were also new. That made the transition very smooth.