January 13, 2020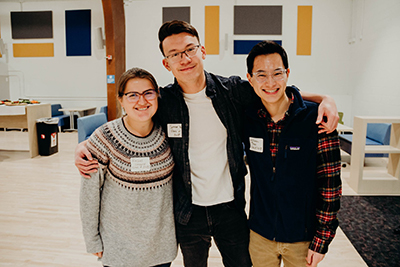 Thanks to college winter break and those traveling back for the holidays to spend time with family, we were excited to welcome so many alumni back home on campus at MPA. A variety of events occurred in the last month including basketball games, tours, and reunions. Read on to learn more!
Thanks For A Joyful Community Caroling!
Thank you to the MPA alumni who returned to campus for our annual holiday caroling! We love having you back to join us for this special tradition. Enjoy photos of the beautiful caroling here.
Alumni Basketball Game
There were 25 alumni, representing ten graduating classes, who joined current basketball players and coaches for the annual alumni game on Saturday, December 21 in the Lansing Sports Center at MPA. Boys Varsity Basketball head coach Jacob Schwartz '09 shared, "It's always good to have former players back on campus. The alumni game is a great way to reconnect and it's something we all look forward to each year. Our overall turnout has been very encouraging, and we hope to see more alumni come back in the future."
Winter Alumni Social
On December 26, the Winter Alumni Social was held on campus in the Family Commons. We welcomed alumni ranging from the most recent graduating class to the early 2000s. It was great to see alumni reminiscing about their times on campus and perusing the yearbooks that were spread throughout the room.
MPA Class of 2009's 10-Year Reunion
The class of 2009 had their 10-year reunion at Billy's on Grand on Saturday, December 28! 33 members, comprising about 50% of the class, attended the reunion. Alumni came from near and far, including San Francisco, Las Vegas, Salt Lake City, New York City, New Jersey, Washington D.C., Maryland, and Virginia!