January 29, 2020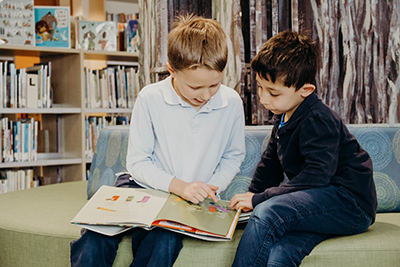 Joanne Olson, MPA's first Lower School director, is fond of saying that MPA was born "of a dream and a shoestring." What started as the dream of founders Bob Kriescher and Sandy Kriescher Smith, quickly became the dream of parents and educators from across the Twin Cities. Bob, Sandy, our founding teachers, board members, and parents pooled what resources they could muster to make their dream a reality on a shoestring budget that would have a lasting impact.
Sandy Kriescher Smith once shared with me that she used a small bequest from her grandmother's estate to buy books for the new library. In the year before MPA opened, Sandy would crisscross the cities, utilizing her inheritance to purchase the books from public schools that were closing, or the inventory cast from public libraries. Little by little, she filled her garage with boxes of books so that when (or if!) the school opened, it would have a library.
Sandy's story is just one of the many stories of our humble beginnings. MPA would not exist without the vision of the founding families and generosity of time and resources of so many. Over the years, generous gifts have resulted in beautiful campus and school community. A commitment to the school guided parents and supporters to invest in the needs of the time but also to invest in the school's future.
One of the most long-lasting ways to support the school we all love is through a planned or estate gift. Planned giving is a form of charitable giving (philanthropy) that involves contributing a gift through wills and estate plans. This future gift when realized allows MPA to enhance its mission and work. Making a planned gift is an easy way to make a big impact. Other MPA families have taken steps to name MPA the beneficiary of a life insurance policy or retirement plan, creating a charitable gift annuity, or most simply, by making a bequest in their wills.
You may be interested to learn that your planned gift can be designated for the purpose of your choice—in the areas of greatest need for the school, scholarships, teacher support, facilities, or program enhancements. Through the years, we have learned that many families have already designated a future gift to MPA through their estate planning. We encourage you to let us know about your planned gift to ensure we can carry out your intentions and to plan for future years at the school.
MPA is a young school with a very modest endowment. Our endowment provides the school with earnings each year that funds important programs and services that directly benefit our current students. Older schools tend to have much larger endowments in the tens of millions of dollars as a result of years and years of planned gifts. Planned gifts are often called legacy gifts because so many are created to make an impact for future generations. I am grateful for the generosity of those who made gifts years ago so that our current students may enjoy the beautiful facilities and outstanding programs of this amazing school.
A legacy gift can be any size and will have a lasting impact on MPA students for generations to come. As a current parent and head of school, I realize we all stand upon the shoulders of those who have come before me and I am incredibly grateful for their foresight and generosity. There are many ways you can designate a future gift through your estate planning. Contact the Development office to learn more about what options might work best for you. Dozens of MPA families have made a future gift and joined the Legacy Society. I hope you'll also consider joining these generous families in planning for the future of MPA.