October 2, 2020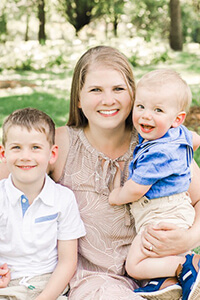 One of the greatest things about MPA approaching its 40th birthday is the number of alumni choosing MPA for their own children. Nate Bander '09 spoke with two alums, who each brought their families to MPA in the fall of 2020, on why they chose to come home. Meet Victoria Simmonds '01, and Sam Brown '94!
What are you currently doing, professionally and/or personally and how did you get there? Are there some career moves or other key experiences or relationships that have inspired you?
Victoria Simmonds '01: I was immersed in the world of real estate as a child. My mother was a residential broker, and my father was a commercial developer. After graduating from the University of Minnesota with a liberal arts degree, I knew pretty quickly that my future career would involve real estate in some form. Fast forward to now and I am an agent with Edina Realty. I am thankful, every day, to have found a career that I love, and I'm honored by each client who trusts me to help them navigate one of the most important transactions of their lives. The relationships that develop along the way are icing on the cake.
Sam Brown '94: In addition to raising Julian (sixth grade) Holland (fourth grade) and with my wife, Karen, I also run my own business, BROWNTOWN_, which is a creative agency specializing in digital media and video production. Put all of this together and it can be very rewarding, but it can also mean long hours, and a lot of work. Still, I wouldn't trade it for anything. My background is in the fine arts. I studied, practiced, and taught printmaking for a number of years. This is also how I met my wife. We were both in the same MFA printmaking program at Indiana University. It was there that I began working more with digital media, finding different connections between mediums. It was really blending together traditional methods of design and color with more contemporary mediums like video and animation.
For my undergraduate degree, I attended Colorado College in Colorado Springs, CO. College was very impactful for me, but so to were the immediate years following when I moved further west to the San Francisco and the Bay Area. The years when I truly had time to explore different places, meet different people, and create unique experiences were really valuable to me.
How did your MPA experience prepare you for your life today? How did MPA inspire you to dream big and do right?
Victoria: As a young child, our safe-haven is home and family; but, as we move through childhood, our school environments provide the backdrop for how we learn to view the larger world. I could write a novella on the ways that MPA prepared me for my life today, but the short version goes something like this: Mounds Park Academy provides an environment that is undeniably inclusive, loving, and warm. I feel this environment provides a strong foundation upon which everything else can be built in the life of a young person. A rigorous academic environment is most successful when a child feels comfortable, respected, and safe.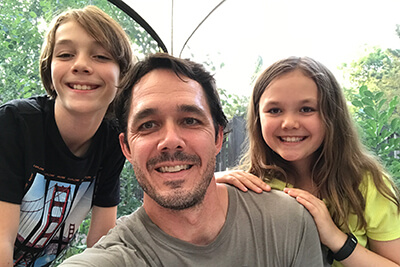 Sam: Beyond anything else, I think it really empowered me to trust myself and take risks. I remember graduating and telling some of my teachers how I wanted to become an artist. And even today, this remains one of my goals. It really is about believing in yourself and trusting that you can do what you set your mind to. And, whatever it is, it's ok that it will be different from everyone else.
What do you love about MPA for your own children? How are they encouraged to dream big and do right at MPA?
Victoria: We love MPA for our son, Silas (kindergarten), for all of the above reasons, and more. It is extremely important to us that Silas grow up in an environment where he feels safe expressing himself, and has the freedom to change his mind if he wants to explore new opportunities.
Sam: This is more complicated and nuanced for me to consider. I need to put on my 'parent hat' for a little bit to answer this. But, to be honest, I never really thought about my kids going to the same school I went to. At first, it wasn't that important for me. But, the more I talked about it with my wife, Karen, the more we began considering it as an option to look into. I'm really glad my kids have this opportunity. The school seems vastly different from when I went there (in good ways), yet for me, it is also quite familiar. The outward focus and personal integration of dreaming big and doing right is really special. I feel like these were always ideas within the spirit of the school when I attended, but now, to see them materialized in real, meaningful ways is something to be grateful for.
How have your children's experience at MPA been different from their previous schools?
Victoria: The teachers. The career longevity within the teachers and staff community at MPA is an impressive accomplishment in its own regard. MPA teachers love what they do and in turn they do a phenomenal job of engaging with students. In a world language or science lesson, the factual information is there, but beautifully woven within the teachings may be a lesson on empathy or ethics. MPA instills a sense of duty in students to be responsible not only for themselves, but for their immediate environments and the greater world itself. They give children the confidence to believe they can be the change-makers.
Sam: This could take a while. How many words do I have to fit in here? It's been a daily conversation we have when we're together. It's been a big transition for us especially in the midst of COVID-19 and also during a time when there are calls for the serious social reforms that we must make. We are just very excited to be starting this new journey with MPA.
In what ways has MPA prepared your child for life in the 21st century? What are the key attributes, skills, and content that you find most valuable?
Victoria: We hope that Silas will foster relationships with friends that will last a lifetime, and he will emerge after his time at MPA with a strong sense of self and responsibility for his community.
Sam: Already within the first couple weeks of school we are seeing changes in our kids. They have much more personal accountability and expectations to handle. The rigor is also quite noticeable. I told both of my kids that one thing I noticed was when they are asked a question it is not simply enough to say yes or no. Often, the questions they are being asked have multiple parts for them to consider and provide thoughtful answers. These types of skills will only help prepare them for what the world can throw their way. And truthfully, that will be a lot.
What would you tell another alum considering MPA for their children?
Victoria: Some of my dearest friends are those I met during my time at MPA. After nearly thirty years of friendship, we have been dedicated to maintaining connections despite varying walks of life, careers, families, and corners of the globe. The community foundation that MPA provides is unlike any I have experienced and my advice for any alum considering exploring MPA for their child would be to simply reach out for a tour. Many of the same friendly faces you remember still walk the halls (currently masked of course), and I'm confident that you will find that the mission has not wavered over the years. I was taken aback by the beautiful improvements to the facilities since my last visit, but the backbone of MPA is just the same.
Sam: Do it.