October 1, 2020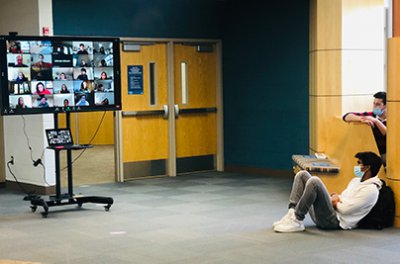 The MPA Upper School Election Club was thrilled to host Minnesota Secretary of State Steve Simon for a virtual discussion on voting, and for our students who are not yet old enough to vote, ways to get involved and safely participate. They also discussed unexpected obstacles faced during the unprecedented pandemic election.
Nearly 50 students tuned in on Zoom from home or from the big screen in the Upper School Commons. They came prepared with a variety of questions for Secretary Simon, such as what his office has done to encourage voter turnout. They learned that the Office of the Minnesota Secretary of State recently worked to double the number of languages translated for voter education pieces, and they are currently working to find local poll workers for the upcoming election. Thirty thousand poll workers are needed for the election, and those as young as 16 are able to apply, be trained, and work to see democracy in action firsthand at the polls.
Thank you, Secretary Simon, for virtually visiting and having such an invigorating discussion on a topic our students are passionate about.