October 14, 2020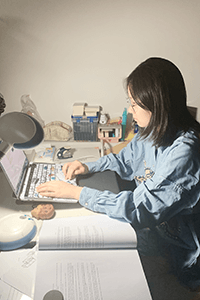 Between visa issues, parent concerns, and travel challenges, COVID-19 has presented many obstacles for MPA's international students. In fact, two students from China, 12th grader RuoHan (Kitty) Li and 9th grader Xinyuan (Ella) Li (no relation) have had to stay at home this semester and attend virtually from thousands of miles away. In a testament to their commitment to remaining a part of the community, Kitty and Ella have rearranged their schedules to accommodate the time differences. Hear how they are making this tremendous sacrifice in order to continue their educations at MPA.
What does your daily schedule look like? What time are MPA's classes for you? Has your sleep and meal schedule changed?
Kitty: Right now, my daily schedule is class from 9:00pm to 2:30am since I do not have 6th block this quarter. However, next quarter, I will have class from 9:00pm to 4:00am since I have Physics. I have been sleeping from 3am to 12pm recently. My meal schedule has not changed too much, but I have reduced it from three meals to two meals since I have not been eating a lot for breakfast.
Ella: I have my first class (Physics) at 9pm and the last class (English) at 2:35am every day. After Physics, I usually go to sleep and then get up again at 2:25am to go to my English class. After the English class, I go to bed again. For classes that I don't stay up for, my teachers always help me record the lesson and explain the assignment to me. In the morning, I usually get up at 10am or 11am and eat lunch. In the afternoon, I work on my assignments. At about 6pm, I have dinner with my family and spend time with them until 9pm, when I start Physics.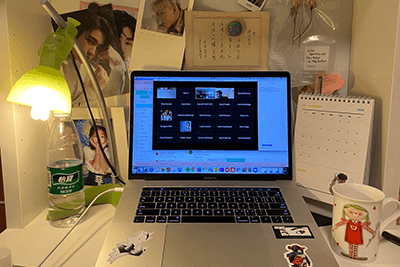 How are you staying connected to MPA friends virtually?
Kitty: I am staying connected to MPA friends virtually by talking with them in classes and on social media.
Ella: I use the email and Skype to connect with MPA friends.
How have your teachers helped you through this challenging time?
Kitty: I have been emailing my teachers if there are any questions for the class, and they are very willing to answer all sorts of questions I have.
Ella: When I have a question, I always send an email, so teachers help me by explaining their answer. When I have a test, I send emails to teachers and talk about what times are available for me to have a private zoom with them to prepare.
What are you most looking forward to when you return to MPA in person?
Kitty: Unfortunately, I still do not know when I could be back to MPA since the travel ban limits Chinese, and other countries have not opened their visa services for other citizens. However, it would be fantastic if I could be back before 2021, I miss my friends.
Ella: I am really looking forward to going back to MPA to have live class with teachers and other classmates, so when I have questions, I can get the answer directly and I also miss my MPA friends.