October 22, 2020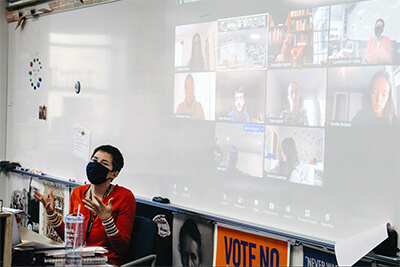 At the front of her hybrid classroom, Upper School history teacher Katie Murr sits facing her physically-distant classroom of students faces, in person and on screen. Behind her, the virtual students' faces are also projected on the whiteboard to face the rest of their peers. The room is equipped with an Owl Pro speaker and a brand new mobile screen to keep her virtual students connected in the classroom, even from home.
Though the class is physically in two places at once, the student experience remains whole. In a recent classroom discussion about the presidential and vice presidential debates, students on campus and online popcorned their way through their thoughts and questions. At each hand that was raised, Katie listed who was next in the discussion queue. "It feels 'normal!'" Ms. Murr remarks. "It's working, because I can still enable an engaging discussion."
From her computer at home, junior Kaija Kunze-Hoeg logs in and participates in the lively discussion just as she would if she were sitting in her desk on campus. "Because Ms. Murr's class is centered around student participation and thoughtful discussion, it is ever more important that this is able to continue in the hybrid model," she said. "As the school year has progressed, discussions are flowing better on Zoom, and even when I am studying from home, I feel like I am in the classroom. At first, I was hesitant to believe that the hybrid model was going to work for discussion based classes, but being in U.S. History this year has certainly changed my mind."
Online or on campus, Panthers thrive.