October 8, 2020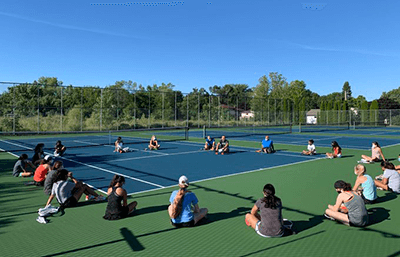 Congratulations to the Girls Varsity Tennis Team for upsetting the #4 seed Southwest Christian High School in the opening round of the Section 4A tournament. The girls won in a thrilling 4-3 victory. Check out the recap from Coach Slachta.
We had an exciting, entertaining and intense match against a strong and higher seeded team from Southwest Christian. Freya Rahm (#1 singles), Gabbi Magistad/Maggie Fritsch (#1 doubles) and Alina Ramirez/Mariana V. (3rd doubles) all put up hard fought battles in their respective positions but were denied a victory leaving Team MPA down 0-3.
With 4 remaining positions out on the court Team MPA needed to go four for four to secure a win. Meera Jain came up big at #4 singles with a convincing win (6-2, 6-3, by far her best effort of the season!) to make the team score 1-3. Meanwhile the dynamic duo of Soumya Raman/Nellie L. (#2 doubles) were in a heated battle and prevailed with a 6-2, 7-6 victory.
With the Panthers down 2-3 at this point, we needed victories out of our two remaining positions Rowan M. (#3 singles) and Khushi Jain (#2 singles). Rowan dropped the first set 4-6, but never looked back and prevailed 6-4 in the second followed by a mistake free, next level dominating 6-0 performance in the third set. And just like that, the match was knotted up at 3-3! Southwest Christian only had 6 courts, which meant Khushi wasn't able start her match until an hour after the others began play. This had no impact for Khushi 'ice in her veins' Jain as she rolled to a 6-4, 6-0 victory and clinched a 4-3 team win for MPA!
All I can say is "wow"! I can't tell you how proud I am of this very young team and how they have progressed this year despite all the craziness of Covid-19 and the challenges that 2020 has brought on. In my fifteen plus years of coaching I have never (regular season or playoffs) had a team down 0-3 and come back to win 4-3. Kudos to them for being coachable, leaving it all on the court and competing like they've never competed before. The future is bright for MPA tennis. It's a bummer you all weren't able to witness it but hopefully you can feel the excitement through this message.
With the victory we advance to the Section 4A semi-finals against Blake on Thursday, October 8.
Let's go Panthers!