November 13, 2020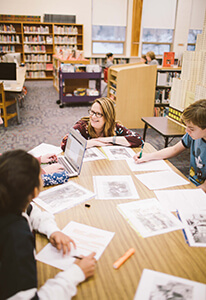 During the Fall Campaign, we are excited to share stories from our community about the impact the school has made on their children and their family. Middle School social studies teacher Marina Dale shares the joys and sense of home that MPA gives her and her family on a daily basis.
How did your family come to MPA?
I came to MPA when Hannah was a year old and I needed a change in my teaching career. Over my 20 years at MPA, I have seen the joys of all three divisions, and the sense of home that the faculty and community has created for my children. As a teacher and a parent, I can't imagine our family being a part of any other community.
Hannah, my oldest, came to MPA in Kindergarten and she graduated as a "lifer." Through those experiences, she had the freedom to be creative, be herself, ask questions, and fill her insatiable desire to have knowledge and know why. Because we had such a great experience with Hannah, Simon followed soon after in Kindergarten. Simon loved that he could do drama, plays, art, and read whatever he could get his hands on. My youngest, Aiden, followed suit, started at MPA in PreK. I knew we had found the right place for him when I walked into the PreK room one day and the teacher was rocking my three-year-old to sleep when he was having a difficult day. It reinforced once again that this was home for all of us.
This year has been a year unlike any other. Can you share what it has been like being back on campus this school year?
COVID has really put into sharp focus what is important. My relationships with my students, that they feel valued and heard remains my primary focus. We are thriving and delivering on the MPA promise thanks to being back in every capacity. Even for those who are virtual this year that I haven't even met, I have made a connection with them and they do feel MPA is their home.
What does MPA give to your children and your family?
MPA has given my kids: critical thinking skills, compassion, and curiosity. All three of my kids will leave MPA curious about the world and wanting to learn more.
MPA has not only enriched my family, it has also honored me with the ability to connect with a family's student during the turbulent adolescent years, encouraging, and validating them. I feel very honored I am entrusted to play a role in helping other children weather this storm. I hope my students emerge on the other side with the skills necessary to find success in Upper School and beyond. I have loved being everyone's second mom at school. I go home at night knowing I have made a difference.
Why do you give?
MPA embodies what I believe is important in nurturing and helping students achieve and I give to MPA to make sure that vision and mission continues beyond the years I will be here.