December 10, 2020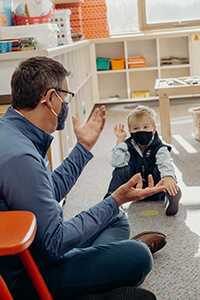 Thirty-nine years ago this week, 13 people from throughout Minneapolis and St. Paul gathered with Bob and Lois (now Sandy Kreischer Smith) Kreischer to articulate their shared dream of founding an independent school in the east metro of St. Paul. In his introduction that evening, Bob said, "We are aware that this could be the start of something big and equally aware that this could totally end in a month or so." At the end of the meeting, a vote was taken to officially establish Mounds Park Academy. The Articles of Incorporation were filed on December 11 with the State of Minnesota designating Mounds Park Academy as an educational nonprofit on December 14, 1981.
Bob had been the Middle School director of Breck School and Lois was an artist. Both had a dream of a school that would educate the whole child (before the term became popular) and a different kind of college-prep program that while focused on academic excellence, was committed to helping each student reach their potential. They also knew the importance of a teacher that "enjoys and really cares about their students" and a curriculum that "best meets the individual student's needs."
Bob understood, and Lois knew, the integral role of the arts in developing the whole child. The early foundations of the school were built upon a diversity, the joy of learning, independent thinking, curiosity, interdisciplinary learning, developing a sense of responsibility, and global awareness. These values may not seem out of the ordinary now, but in 1981 they were groundbreaking and innovative.
"MPA has a 'try it' approach to learning and life," reflected Lower School Director Joanne Olson. "Our school was founded on 'a dream and a shoestring' with no assurance of success. That willingness to question, to reach beyond, to try something different, continues—as individuals and as members of the MPA community. Each of us is encouraged to dream our own dreams for ourselves and for the school. MPA gives us the opportunity to turn those dreams into reality."
Since its inception, MPA has been a school of innovative thinking, creativity, and collaboration. It was founded on principles of inclusion, academic rigor, lifelong and joyful learning, and a student-centered education that encompassed a wide range of disciplines and learning experiences. That essence, still thriving, is more important today than ever before. In an era when technology and globalization are rapidly growing, and lines are blurred between knowledge and opinion, students need—more than ever—to learn how, not what, to think.
Ordinarily we would celebrate this week with an all community Pancake Breakfast, but instead we served pancakes for lunch. I also visited each Lower School classroom to tell the founding story and present each student a "birthday" cupcake. When I asked students what they appreciated most about MPA or what they thought made MPA unique, their responses were touching, often contemporary manifestations of the original MPA philosophy. The students and I agreed that this year's character trait they are learning about, perseverance, aptly described those early months and years.
Leading this amazing community has been the joy of my life. Each day, I mutter a word of thanks for the opportunity that has changed my life, both personally and professionally. I am deeply grateful for our founders, Bob and Sandy, the early board members, teachers, parents, and all those who played a role in launching MPA. Not too long ago, a founding teacher was asked, "Is the Mounds Park that exists today the school you envisioned all those years ago during its formation?" "In many ways it is," she answered, "but in many more ways it exceeds what we dared to dream back then."
Happy Founder's Week and thank you for entrusting your children to MPA.