December 10, 2020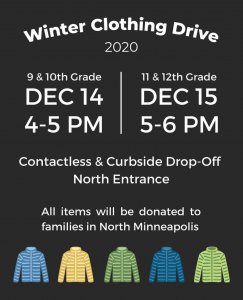 The Student Council is hosting a winter clothing drive in a contactless drop-off to collect warm winter coats and clothing for families in North Minneapolis. Similar to when you've picked up school supplies from the North Entrance, you will be able to drive up with your donations and drop them off without getting out of your car. After placing them in your trunk, a volunteer will pick your donated winter clothing with gloves and a mask. To contribute, please drop-off your materials at one of the following times:
Monday, December 14 from 4-5 PM
Tuesday, December 15 from 5-6 PM
Thank you for donating and for your support!