December 14, 2020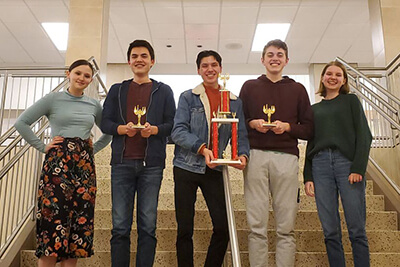 This past Saturday, the MPA Upper School Quiz Bowl teams couldn't take celebratory  pictures together quite like the one featured here from 2019, but their smiles were just as big! Three MPA teams competed at the RATRACE tournament (Really Awesome Thumb-Racing Academic Competition Event) Quiz Bowl competition, which was held virtually.
The A-Team, comprised of seniors Isak Dai, Ryan Ghose, Hana Miller, Ellen Vergin, and Tanner Gasteazoro, finished in the top 16 teams and secured a spot in the National Tournament this Spring! The B-Team, comprised of tenth graders Anthony Troullier and Gabe Messner, and ninth graders Zain Ali and Ian Frankel, missed making the top 16 by a very slim margin. The C-Team, comprised of ninth graders Ben Murr, Akshay Somayajula, Soumya Raman, Molly Vergin, and Fawzan Aslam, had a great showing with a 3-3 record.
Individually, out of nearly 300 players on 64 teams, Isak Dai finished third and Anthony Troullier finished sixth! Congratulations, Panthers! We can't wait to cheer you on at the National Tournament!