December 28, 2020
The following essay is adapted from MPA Class of 2021 member Evan Esch's Senior Speech.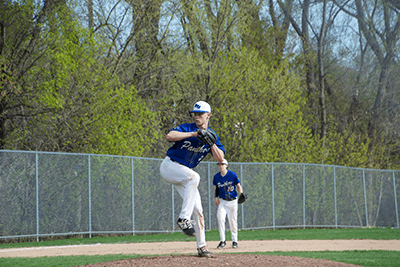 Playing one of America's greatest pastimes has been one of the greatest privileges of my life. When I was younger, baseball was always the most fun and something I'd look forward to in the summer. Being an athletic kid, it came particularly easy to me. I was fast, I could also hit the ball pretty well, and I was exceptional at catching and throwing. On top of that, I'm a lefty, among the most desired traits in baseball players. As I continued to progress through youth baseball, my team won a lot of games and tournaments. We had a great coaching staff that was knowledgeable and brought tremendous energy. They really wanted us to succeed. However, when high school came along, and the pressures of the recruiting environment began to ramp up, my relationship with baseball began to change.
Being noticed as a high level baseball player in Minnesota was great, it felt affirming to be one of the best. However, it sometimes made me complacent. That complacency was, at times, detrimental to my game because it made me too comfortable. It was easy to do things that came naturally to me, and they fulfilled me in the short-term, but looking back, I realized I did not accomplish much in those comfortable times.
Being uncomfortable is hard. Doing things that I know are going to be uncomfortable makes me anxious. However, I have always noticed the most growth through these experiences and they have helped me be who I am today. While battling against personal records in the weight room or putting my body through new and different exercises seemed difficult and sometimes dissatisfying at the time, I have realized I would am who I am because of these moments. One thing that's helped me is that I have always thought of uncomfortable experiences as just like going up to a random person to introduce myself. Those first couple of seconds can feel awkward and difficult, but persevering allows me to become more personable and build new friendships.
Overcoming complacency and succeeding through discomfort would not have been possible without the assistance of many family members, coaches, and friends. I am in no way a self-made person. In fact, I am the first to admit that I wouldn't be absolutely anybody if it was not for the many people who have guided me through my life.
One of the first groups to guide me was my three siblings. Growing up as the youngest child has been a blessing because I have been able to benefit from learning about the ideas, mistakes, morals, and values in my family. I have followed closely in my siblings' footsteps in a lot of ways. Though I am naturally curious, a lot of the ideas that come to me have come from my siblings. I take their ideas and try them out for myself, thinking about their merits, logic and intelligence. From there, I do more research to figure out why something works and what the benefits are.
Another person who has guided me tremendously is Jake Matthys, one of my baseball coaches. Coach Matthys has a wide variety of knowledgeable insight that has helped me be who I am today on the field. I have taken his ideas of sleep, diet, mental health, and mobility and stability exercises to heart, while also taking it upon myself to research these topics in more depth. Coach Matthys has encouraged me to listen to podcasts, watch YouTube videos, read studies, and think through what my body is doing to help benefit me the most.
MPA has helped me so much too. A lot of my insight and critical thinking has come since starting here in fourth grade. Although doing homework or studying for classes is different than throwing a baseball, they both go hand in hand in some ways. The rigor of my MPA education allowed me to become comfortable with the uncomfortable inside the classroom and that absolutely aided my baseball career. Trying new things like singing in choir or playing trumpet helped me focus on the details of technique, repetition, practice, and meticulousness needed in baseball.
I also owe the sport of baseball. It is so valuable to me and it's always been there for me. It was there for me when I came to the realization that while I look up to my siblings very much, I am not exactly like them when it comes to school work. They had near perfect grades in high school, and were involved in coediting the yearbook, being three sport athletes, participating in clubs, and winning awards, and I have had a lot of ups and downs. Their reality hasn't always been my reality these last four years, but I have always had baseball. Baseball is a team game, but it is also deeply individual, and it is has helped me realize that there is so much more to life than comparing myself to others. At the end of the day, it is important to live my life to make myself happy and dive deep into my passions, especially baseball. So, with that in mind, I'd like to share some important news.
I am excited to announce my commitment to play baseball at the University of St. Thomas. Thank you to St. Thomas for giving me the opportunity to play at the next level and being open and honest with me through the recruiting process. Thank you to my parents who have supported me at all my games and have allowed me to pursue my baseball career to the fullest. And thank you to everyone in my life who has helped shape and make me the person I am today.