December 6, 2020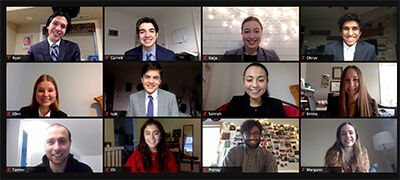 Congratulations to the MPA debate team on a historic performance at the Classic State Debate Festival. MPA was represented by 44 students, and Mounds Park Academy received the second-place team sweepstakes award, missing out on first place by a single point. That's an award based on the top two performances across each of the three divisions of competition–novice, junior varsity, and varsity. It's a testament to the depth of the team.
We call the tournament the Classic Debate Championships in novice and junior varsity. In the novice division with 57 entries, the team of juniors Gavin Thorson and Sofia Cortes Weiss advanced to the octafinal round, and the team of junior Zoe Schnell and sophomore Frances Martin advanced to the quarterfinal round. In the junior varsity division, the team of sophomores Kensi Binstadt and Zaara Nayak advanced to the octafinal round, and the team of juniors Charlotte Bergh and Ruby Schwieger made it to the quarterfinal round. The team of seniors Lilly Gasterland-Gustafsson and Peter Manolis competed in the final round of the junior varsity division, and finished second to a team from Rochester Century.
The varsity division is called the Minnesota State High School League Classic Debate State Festival, as the MSHSL sponsors the awards for this event. Before we get to the team results, we want to applaud three seniors who were recognized with all-state debate honors for their excellence over the entire season: Ellen Vergin, Isak Dai, and Emma Cohen. In team competition, MPA had its strongest finish ever in this division with four teams in the top eight. The team of junior Kaija Kunze-Hoeg and senior Dhruv Muppidi made it to the quarterfinal round, and the team of seniors Isak Dai and Ellen Vergin advanced to the semifinal round. In a first for the school, MPA had two teams in the final round of the tournament. The teams of seniors Salmah Elmasry and Emma Cohen and Ryan Ghose and Garrett Hollihan debated an outstanding championship round, with Garrett and Ryan finishing second and Emma and Salmah winning the second varsity state debate championship in MPA history.
A special thank you to all the alums who coached and judged for the team. Meg Wilkening '18, Elli Carlson '20, and Pranay Somayajula '18 joined Katie Murr and Tanner Sunderman to coach 100 students through the rigors of debating in online tournaments, and numerous alums judged for the team over the course of the season.
Go Panthers! Go Juggernaut!