February 13, 2020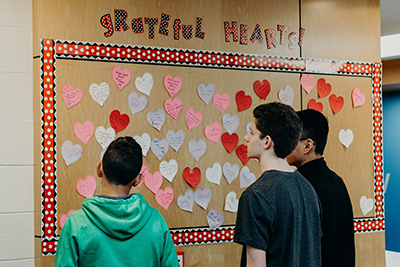 by Jenn Milam, Ph.D., Middle School director
Editor's Note: Each month, you will find a guest Head's Message here from one of MPA's division directors. We hope you enjoy reading their thoughts and reflections about life at MPA.
"When we confirm someone, we identify a better self and encourage its development. To do this, we must know the other reasonably well. Otherwise we cannot see what the other is really striving for, what ideal he or she may long to make real." –Nel Noddings
Philosophy. Philosophy, quite literally derived from the Greek word philosophia, meaning "love of wisdom" is the study of knowledge(s). As we round the week toward Valentine's Day, I thought I might share a little bit about the importance of love, of care, of confirmation in education. I invite you to wander with me a bit in my thinking.
I have had the incredible privilege in my lifetime to learn from some of the world's most intelligent, creative, and thought-provoking scholars in the realm of education–philosophers, pedagogues, teachers, and scholars. Each of them unique in their love for their subject or discipline and deeply passionate about sharing it with others. Of those I met and have studied alongside, one of the most profound thinkers in modern educational philosophy is Nel Noddings. Nel was born in 1929 and has been gracing the world of education with her theory and work in the ethic of care for many years. Most notably, she has written volumes outlining how the concept of "care" is the foundation of all ethical decision making and holds that this foundation is critical in education. She connects, in deep and meaningful ways, the personal self to the knowing self (not that they are totally separate, but rather two sides of the same coin, if you will). She lends to us a glimpse into a world where care, fierce gentleness, and humble responsiveness bring about educational growth and lifelong success.
Care, as a concept and an action, is the basis to human life. All people long to be cared for. Nel does a remarkable job of articulating the importance of care; explaining that care is a "longing for goodness that arises out of the experience or memory of being cared for." It may seem obvious on the surface, but this thoughtful framing insists that by caring for others, they, too, are prepared to care for others. In turn, we promote an ethical caring for the purpose of building a better world. This, in Nel's work, is the cornerstone of education.
Caring, as a verb, calls us to be attentive in a special way to others, to seek connectedness in feeling with others, to call to the forefront the affective side of attention giving and receiving. In the caring relationship, we are each cared for and caring for others. In education, Nel calls us to "care for" those we serve, in particular, our students. By caring for our students, as we do at MPA, we model what it means to care, we engage in dialogue about the importance of caring for ourselves and others, we practice and promote care, and finally, and perhaps most importantly, we engaged in the act of confirmation. Confirmation seeks to offer care in the way that it is needed by the person to be cared for. More, it means to offer care in a way that affirms and encourages the best in the other person. When your students are cared for, they are confirmed–in their personhood, in their academic journey, in their quest to find their passions. When they are cared for, and confirmed, they are better able to care for themselves and to enter the world as caring, confirming young people.
Valentine's Day is my favorite holiday. It is the day of the year set aside to tell those that you love and appreciate, that you do. I shared this with the Middle School students a few weeks ago and asked them to write "love notes" to those they love and appreciate. What I was really asking them to do, is to express gratitude in being cared for. And in so doing, they shared for whom they care, too. The wall just beyond our Middle School hallway is covered in pink, purple, white, and red hearts each with a unique, sometimes silly, expression of care. They are also expressions of confirmation.
I think Nel Noddings would be proud of our work at MPA and the spirit of care that helps us build compassionate, ethical, and engaged human beings with brilliant minds.
Happy Valentine's Day, to you and yours. It is an honor to care for your children.