February 19, 2020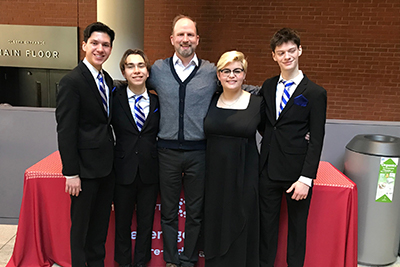 Congratulations to All-State Choir members Ryan Ghose, Jordan Akers, Solie Svennevig-Brosi, and Caleb Rhodes! Ryan sang in the SATB Mixed Choir under the direction of Jo Ann Miller while Solie sang in the Soprano Alto Choir with Therees Hibbard. Jordan and Caleb were in the Tenor Bass Choir with Michael Culloton conducting. Today marked the culmination of an All-State process that started with auditions last spring, a summer camp, and a final performance at Orchestra Hall. Ryan, Jordan, Solie, and Caleb are members of the MPA Concert Choir and Madrigal Singers.
Congratulations to freshman Jack Peterson and sophomore Elissa Frankel on their performances with the 9-10 State Honor Choir! Jack sang in the SATB Choir under the direction Aimee Beckmann-Collier while Elissa sang in the SSA Choir with Brandon Dean conducting. After a day full of rehearsals, they performed at Central Lutheran Church in downtown Minneapolis. Jack sings in the MPA Varsity Choir while Elissa is a member of Concert Choir and Madrigal Singers.
Keep singing your song, Panthers!