February 4, 2020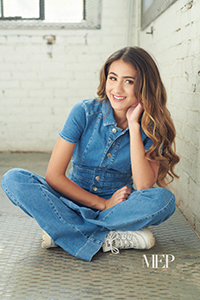 The following essay is adapted from MPA Class of 2020 member Lilly Ramalingam's Senior Speech.
I started preschool at the age of two at my family-owned Montessori school, Ramalynn Montessori Academy. My parents, my grandparents and my uncle have all taught at the school and it is a four-minute walk away from my house, so it was almost quite literally a home away from home. Before graduating from Ramalynn after eighth grade, I was a confident and happy girl, with none of the worries I would quickly take on during my first two years of high school.
After eighth grade, I didn't have much of a choice on where I would attend high school, since my parents and grandparents had already decided to send me where my uncle had gone before he went to college at Brown back in the 90s. This high school I attended for two years before coming to MPA will rename nameless.
I went into this new school as a freshman, while the majority of students in my grade had been together for many years before high school, so I knew I was already at a slight disadvantage, but because I'm generally a very social person, I wasn't too worried about finding new friends.
I don't want to get into the specifics of why my time at this new school quickly became so miserable, because it wasn't just one reason, and I do not to dwell on the past, but rather wish to show my growth and strength. Which brings me to transferring to Mounds Park Academy. I begged and begged my parents every single day to allow me to transfer, and finally, we made a deal that if I was still not enjoying experience by the middle of my sophomore year, I could switch schools.
Sophomore year came, and I was still unhappy. My search for a new high school for junior and senior year had started. I had a few friends at MPA already, so I did a shadow visit and I knew right away that this was the school for me. I felt so welcomed and happy from the first day I entered the doors. I had the feeling that MPA was perfect for me. I looked around and saw kids laughing together, I saw no cliques, I saw teachers and students comfortable around each other, and, what surprised me the most, I saw myself reflected in other ethnically and socially diverse kids just like me, which made it easier to embrace and be proud of all parts of myself and my background.
I quickly learned what it meant to be a part of such a special community, much like what I was used to at Ramalynn for the first 13 years of my life. I was finally part of a diverse community where I wasn't one of the only "brown girls" or "mixed kids". Observing the way my classmates easily and comfortably shared their family's unique customs and traditions gave me the confidence, for the first time in several years, the confidence to do so too. I found MPA to be place free from judgement and with an eagerness to learn about different cultures across the student body, which has naturally benefited me and other students of color. It's a very accepting school.
With this safe and supportive environment, I have learned more about global issues in my short time at MPA than I have in my entire life. So many of my classmates have inspired me to listen and act on important issues in the world that not only affect me, but everyone else as well. I feel as if I've been given a responsibility to soak up all I can from my classmates and teachers, and educate myself about a variety of tremendously important topics affecting the world. I know I wouldn't be as educated on these issues if I hadn't come to MPA. I am now able give back by passing on what I've learned on these issues to friends from other schools and to my family.
Since coming to MPA I have grown into a much stronger and more independent woman. This school, and especially the senior class, are full of so many powerful women who have taught me what it means to live as a feminist and support other women. I was finally surrounded by a group of girls who bring each other up rather than competing with each other. It was a lovely change from what I experienced my first two years of high school. I was finally part of a community that built my confidence up rather than filling my life with comparisons and judgement. I was finally unafraid to go to school. Class of 2020, you all made the transition very easy for me, and I am so thankful to you for that.
I have thrived in my time here at MPA. I can confidently say that coming to MPA is one of the best and bravest decisions I've ever made. I am also not afraid to go to college now because I feel prepared not only academically, but also socially. I'm not nervous to expand my horizons or to leave Minnesota, the only state I've known my whole life, and meet new people in college. I know I can come to school every day, feel supported, and have my voice be heard. I know I can trust my friends, even those I haven't known for very long yet, because at MPA, I've found that everyone supports each other.
I am genuinely so thankful to everyone at Mounds Park Academy, especially all the teachers, and you all, my fellow classmates. The 45-minute drive to school every day from Bloomington has definitely been worth it. Thank you to everyone in my grade for being so open and kind to me since the day I shadowed, and for opening my eyes up MPA and letting me know that there was a school where I would feel welcomed and loved.